Get a Bird's Eye View of the Beach on the New Gulf Shores Zipline
February 27, 2013
Parasailing is always a popular adventure at the beach, but there's a new way to soar high above the water on your next vacation to Gulf Shores & Orange Beach. The Hummingbird Zipline at the Gulf State Park is slated to open in March and is sure to
provide a rush for adrenaline seekers and an exciting adventure for families.
The new attraction consists of six zip lines. Four of the lines traverse over the waters of Lake Shelby, amping up the thrills and providing panoramic views of both the lake and the Gulf of Mexico as riders coast along the lines. The Gulf Shores zipline offers a mile of adventure up to 90 feet off the ground in some areas. On the last leg of the course, race a friend to the finish line on a dual cable.
The Hummingbird Zipline is part of the new Gulf Adventure Center. Lake Shelby has been a natural playground for vacationing families for decades, offering swimming and picnic areas, as well as a boat launch. In addition to the zipline, the Gulf Adventure Center will also offer standup paddle boards for rent.
Opening just in time for spring break 2013, the Gulf Shores & Orange Beach zipline is one of many beach attractions that will be ready to welcome families back to the beach. And, it's not too late to get a great rate on a spring break vacation rental, so pack up the family and get ready for fun and adventure on the Gulf Coast.
[caption id="attachment_810" align="aligncenter" width="225"]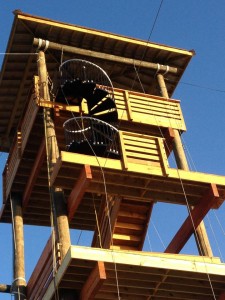 Tower two at the Gulf Adventure Center at the Gulf State Park.[/caption]