Reel in Great Summer Memories
July 23, 2013
Pier fishing, shore fishing, charter fishing. How much fishing have you done this summer? Gulf Shores & Orange Beach are both full of fishing opportunities.
If you haven't been to the Gulf State Park pier lately, bring your rod and tackle out with
you for some pier fishing. It's great family fun watching the young and young-at-heart reel in their catches. You can even bring a crab basket to the pier. A saltwater fishing license is required for anglers 16 and over, but can be purchased at the concession area, seven days a week, from 7 a.m. to 11 p.m.
The pier is the largest one on the Gulf of Mexico at 1,540 feet long and 41,800 square feet. It also offers  2,448 feet of fishing space along its rails, so there's plenty of space for the family to spread out and reel in dinner.
Shore fishing is also a fun way to spend the day. You can shore fish using a rod and reel or even a cast net. Some anglers prefer to fish from the shoreline while others wade into the surf. You can purchase a fishing license online to take the hassle out of preparing for your trip.
If you don't have your own gear, but still want to fish, charter fishing is a great option. You can choose an inshore or nearshore trip, as well as a deep sea charter. Trips range from four hours to two days. There are shared-expense trips and private charters available. Your charter boat captain will take care of the details for you and provide your license, bait and tackle. For a fun look into Orange Beach inshore fishing, check out this cool video.
Whichever fishing option you choose, you're sure to reel in some great summer memories along with your catch!
[caption id="attachment_832" align="aligncenter" width="300"]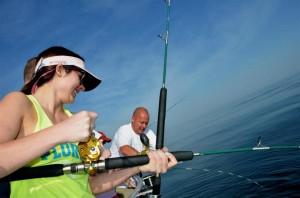 Reeling in the big catch with Distraction Charters in Orange Beach, Alabama.[/caption]