Sun, Sand and Shrimp at the 2013 National Shrimp Fest Oct. 10-13
September 30, 2013
For 42 years, shrimp lovers and festival goers have converged on Alabama's white-sand beaches for the Annual National Shrimp Festival presented by Zatarain's. There's no better place to celebrate this tasty crustacean than right next to its home – the
Gulf of Mexico in Gulf Shores. This year's festival is slated Oct. 10 to 13 and is expected to attract more than 300,000 people.
More than 50 local and regional vendors will line the boardwalk of the main public beach with mouth-watering offerings, including Cajun Pistols, boiled shrimp, fried shrimp, funnel cakes and more. Be sure to attend the National Shrimp Festival on an empty stomach!
While food is the highlight of the event, there will also be more than 80 hours of live entertainment featuring an impressive lineup of national, regional and local musicians and bands. From blues to Motown to southern rock, country and jazz, the eclectic mix of music is as varied as the preparations of shrimp at the festival!
Run off those good eats in the Shrimp Fest 10K and 5K or enter the annual sand sculpture contest for some fun in the sun. Outdoor World and Shrimp Fest Idol are both new attractions for the festival.
More than 200 booths of fine art and arts and crafts will be available for browsing, and the Children's Activity Village will offer face-painting, karaoke and other fun events for the kids in tow.
Fall lodging rates make attending the National Shrimp Festival even more affordable. Get great discounts on beachfront condos, hotels and houses. We hope to see you soon in Gulf Shores for a shrimply great time!
[caption id="attachment_922" align="aligncenter" width="300"]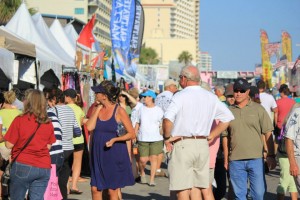 The 42nd National Shrimp Festival is slated Oct. 10-13 in Gulf Shores, Alabama.[/caption]