Five Reasons You Should Be at the 2014 National Shrimp Festival
October 9, 2014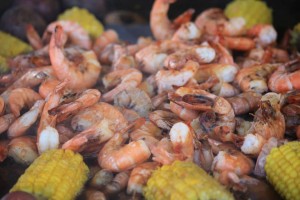 The saying, "big things come in small packages" has never been truer than when you talk about fresh, Gulf shrimp. We're celebrating these crustaceans all weekend long at the Annual National Shrimp Festival held on the white-sand beaches of Gulf Shores.
From Oct. 9-12, be treated to a festival of fun and flavor at one of the Alabama Gulf Coast's banner events. If you need a few reasons to put your toes in the sand and some shrimp in your hand, here are five to get you started.
1. Live entertainment. The music starts at 10 a.m. each day of the festival. Headliners for evening shows include Keith Anderson, Parmalee and Dustin Lynch. Daytime shows include artists like Sugarcane Jane, Wes Bayliss, Brent Burns, Willie Sugarcapps and more.
2. Fine arts, arts and crafts. More than 300 vendors line the festival aisles with handcrafted pieces and fine art, including blown glass, pottery and framed paintings.
3. Sand sculpture contest. You've been building sand castles and sculptures since you were a kid, now's your chance to show your skills and win prizes for your handiwork. Children as young as 5 years old can enter. There is a maximum of four members per team. The contest begins at 11 a.m. on Saturday, Oct. 11.
4. Exercise. Enter the Annual National Shrimp Festival Run and take home bragging rights for your age group. The certified 10K and 5K runs are ADA accessible and take place Saturday morning, Oct. 11 at 8 and 8:30 a.m., respectively.
5. Shrimp! Perhaps the best reason of all to attend the Annual National Shrimp Festival is the shrimp! You'll find shrimp prepared just about any way you can imagine, including fried and steamed and the popular Cajun Pistols, often described as a buttery, spicy pocket of paradise.
For a last-minute Gulf Shores getaway, visit the Hot Deals page to check the Annual National Shrimp Festival specials.