Annual Oyster Cook Off & Craft Beer Weekend Slated Nov. 7-9, 2014
October 29, 2014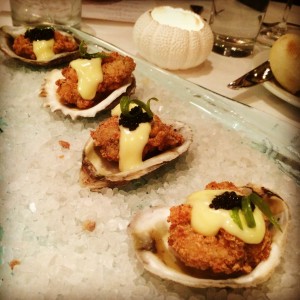 Sample flavorful dishes prepared by celebrity chefs during the 7th Oyster Cook Off and Craft Beer Weekend, Nov. 7 to Nov. 9 at The Hangout in Gulf Shores.
Oysters aren't the only star during the three-day event. Beginning Friday at 6 p.m., sample
more than 60 craft beers from 25 craft brewers. There will also be live music from the Mulligan Brothers. Get your tasting tickets for $25 and enjoy unlimited beer tastings and music all evening. You'll also have the chance to meet the chefs and brewers.
Get ready to celebrate and enjoy the many ways oysters can be prepared on Saturday, Nov. 8. Celebrity chefs will begin cooking at 11 a.m. Guests will be asked to crown the best oyster in the Blind Oyster Taste Test. Admission is free, however tasting tickets may be purchased to sample the craft beer and oyster dishes. Football fans will even be able to keep track of their favorite teams with games playing during the Cook Off.
The fun starts at 10 a.m. Sunday with a Zing Zang Bloody Mary Bar and Sunday Brunch featuring recipes from the Cook Off chefs. Football games will again be playing, and you're invited to stick around and cheer on your favorite team.
Make a weekend of it and check our website for Oyster Cook Off lodging specials on Gulf Shores hotels and Orange Beach condos.
Let's Get Social!
Join us online during the event and post your event foodie photos and oyster selfies on Instagram using #oco14 and #gosbeyw.