What's Biting: Be get ready with National Safe Boating Week 2015
August 16, 2018
There is no doubt the offshore fishing season is upon us. Next week, the Orange Beach Billfish Classic sets the big game tournament season in motion that will last along the Gulf Coast until Labor Day. Professional crews will work until the last minute
rigging baits, testing drags, and sharpening hooks. One part of their tournament prep that won't be last minute will be ensuring their safety gear is absolutely perfect. Next week is also National Safe Boating Week.
Charter boats must go through an annual inspection from the United States Coast Guard to make sure they are in safety compliance. It's part of what you pay for when chartering a boat. You're paying not only to catch fish but for a safe trip to and from the dock. Your safety is the responsibility of the captain of that charter boat. When you are fishing on your boat, that responsibility falls upon you. And that responsibility is bigger than any fish you will ever catch.
With snapper season coming up June 1, this is the month many fishermen with be getting their boats ready for offshore trips. Preparation of safety gear should garner just as much attention as rods, reels, and egg weights.
[caption id="attachment_4774" align="alignright" width="226"]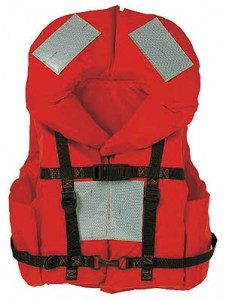 Don't wait for National Safe Boating Week. Be prepared now.[/caption]
"Fishermen go to such great lengths to get ready to fish. They get the boat waxed. They buy new fishing gear. They make sure the stereo is working. Every boat owner needs also to make an investment in safety gear prior to the season," said Officer Caleb Winfield of the Orange Beach Marine Police.
Office Winfield says life jackets are the most crucial piece of safety equipment on a boat. Shocking what seem like the most basic of boating rules are regularly overlooked. "There are two main issues we see with life jackets. Number one, there has to be one life jacket on the boat for each person onboard the vessel. Number two, those life jackets must be accessible."
Winfield says he is amazed at what he sees when he and his fellow officers do routine safety checks. "Not only do we find boats without enough life jackets. We see them crammed in places with so much stuff piled on top of them that in an emergency situation they would never be able to get to those life jackets when seconds count."
With our weather, especially offshore, conditions can change very quickly. A calm sunny day can turn into five-foot seas and gusting winds in no time. That is not the time to be trying to remember if you let someone else borrow your life jackets or where you have them stowed on the boat. Prior to leaving the dock, make sure everyone onboard knows where the life jackets are located. Doing this also gives you an opportunity to see the life jackets and make sure they are within easy reach.
In addition to having the bare minimum of just life jackets onboard, Officer Whitfield is also a big proponent of ditch bags. "If you can afford to fish offshore, you can afford to make an investment in a ditch bag." We talked with Officer Whitfield last fall about ditch bags.
Just like having your boat serviced prior the fishing season, you can also have your boat inspected for safety. Both the U.S. Coast Guard Auxiliary and the United States Power Squadrons have certified vessel examiners who will perform a free Vessel Safety Check at your boat, at a time of mutual convenience. There is no charge, and no consequences if you don't pass. They just want to help you boat safely, and that is the most important part of any day on the water.