NCAA Beach Volleyball Action Heats Up for May 2017 Championship
February 23, 2017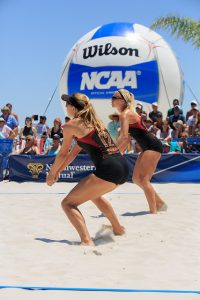 Dubbed the "Best New Event" for 2016 by SportsTravel magazine, the ladies of beach volleyball will be back in action for the 2019 National Collegiate Beach Volleyball Championship, May 5-7.
Held for the fourth year in Gulf Shores, collegiate teams from all over the country will compete for bragging rights on Gulf Shores' white-sand beaches. Totaling 55 NCAA sponsoring schools, beach volleyball is the NCAA's fastest-growing sport. With more than 1,000 student athletes participating, the field is whittled down to eight teams for the championship weekend.
Five collegiate courts and five practice courts will be set up behind The Hangout on East Beach Boulevard for the double-elimination tournament. For the fans, there will be bleachers and courtside seating. Tickets will go on sale online in March.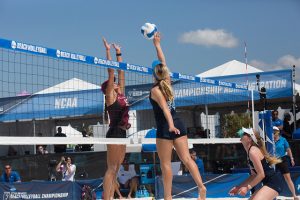 Catch all the action during the second National Collegiate Beach Volleyball Championship in Gulf Shores.
When you're not soaking up the sun and cheering on your favorite team, check our calendar for more events and happenings during your beach vacation.