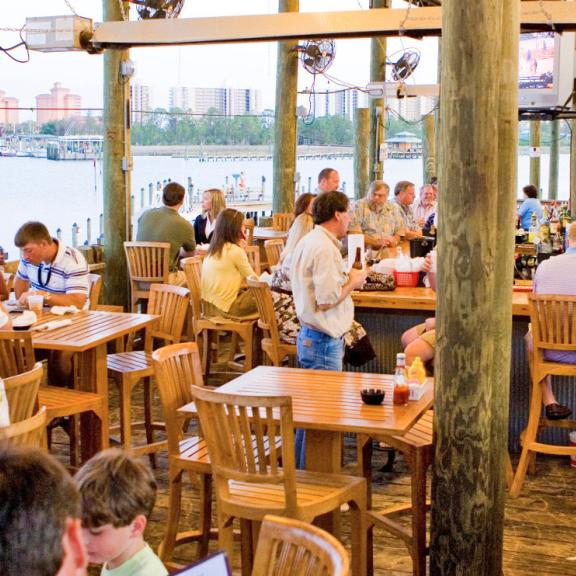 4 Big Beefy Beach Eats in Gulf Shores, Orange Beach
Part of the Beach Bites Series
August 6, 2020
Big appetites call for big food. When you're on the hunt for a big breakfast, a large lunch or a sizable supper, we've got ideas that'll hit the spot on your hunger pains. For big, beefy food (that includes a hearty helping of seafood, too), feast on some of these mega-food masterpieces at Gulf Shores and Orange Beach restaurants.
Nasty G
Barbecue and beach go together like sand and surf. Pull up a chair at Hog Wild BBQ in Gulf Shores for the Nasty G. Created by the owner's brother, this sandwich is more than a mouthful! It's packed full of chopped rib, chicken, pork, three Buffalo shrimp and topped with white barbecue sauce and a dollop of coleslaw. Plan to take a nap after partaking of this enormous sandwich.
Doc's Super Seafood Platter
When seafood is calling, answer with Doc's Super Seafood Platter at Doc's Seafood Shack & Oyster Bar. This heaping helping of seafood includes shrimp, oysters, stuffed crab, fish fillet, creamy coleslaw, hushpuppies and a cup of gumbo. Oh, you can also choose fries or a baked potato to have on the side! Doc's is a vacation tradition for many folks, and with platters like this one, it's no wonder people keep coming back year after year.
The Farmer's Omelet
Once featured on the list of "100 Dishes to Eat in Alabama Before You Die," the Farmer's Omelet at Tacky Jacks is one of those "everything but the kitchen sink" meals. It comes loaded with onions, bell peppers, mushrooms, sausage, ham and American and cheddar cheese. Served with a side of hash brown potatoes, this omelet will kick start a busy day at the beach.
The Little Chill
Don't let the name deceive you. The Little Chill at The Hangout is anything but little. When you have a hankering for fresh seafood, but can't decide between shrimp, oysters or crab legs, the Little Chill is your go-to meal. The towering trio of delish seafood includes a half-dozen chilled Gulf oysters, half-pound peel and eat Gulf shrimp and a half-pound snow crab legs, all served with Hangout cocktail sauce. Wear your stretchy pants for this one.