The Time I Rented a Boat on Alabama's Beaches
Renting a boat was the BEST beach activity our family has ever done!
April 22, 2020
Aside from the time that a lemur licked my husband's face at the Alabama Gulf Coast Zoo, renting a boat from Flora-Bama Marina and Watersports was the BEST beach activity our family has ever done!
As family travel writers, we have attempted a number of water activities in different parts of the world. We've rented paddleboards in Aruba and Jet Skis in Alabama, and chartered a boat in Hawaii.
But renting a boat in Gulf Shores still tops it all! Let me tell you why.
1.) No seasickness
When you rent a boat from the Flora-Bama Marina, you set sail in the bay. This means you avoid the roll of the Gulf waves that typically rock a boat in open waters. If you get easily seasick like I do, you'll immensely appreciate the steadiness of the bay!
2.) Sandbars and Islands
Be sure to ask the folks at the marina for suggestions on where to go. They provided us a handy map and highlighted a popular island spot where people anchor their boats all day to stand knee-deep in emerald water, grilling out and floating to the tunes of their favorite playlists. Robinson, Walker and Bird Islands are hot spots for boating in Orange Beach.
3.) Float-up restaurants
At the suggestion of a staff member, we followed the waterways to a locals' spot called Pirate's Cove Marina. It was a secluded hideout that's been serving customers for more than 61 years. The food was fast and the bushwackers strong. Children played in the shallows while parents listened to music and lifted plastic cups full of spirits to the freedom of the weekend. A laid-back dive for barefoot beach bums, we fit in perfectly.
4.) Never too far from land
Sometimes it can be daunting to rent a boat in unfamiliar waters when you are on vacation. The biggest concern for me prior to boarding the boat was SAFETY. The bay is lined with houses. There are many boats out and about. We were never secluded, which put us at ease.
5.) Bluetooth sound system
The pontoon boat we rented was outfitted with a Bluetooth sound system. We easily connected our phones to play our favorite reggae music. I know this seems like a small thing, and you may be wondering why it made the list. But to have a system that was loud enough to hear even on a windy day with the boat engine roaring was priceless!
6.) Unexpected surprises: dolphins and Doggie Olympics
Renting a boat was full of surprises! We wholeheartedly felt like explorers discovering a different side of Gulf Shores and Orange Beach than we had ever seen. The bay has dolphins. When we arrived at Pirate's Cove, the Doggie Olympics were taking place. What surprises are in store for you when you rent a boat? Be sure to let us know!
Being able to share this water adventure as a family (grandparents, children and parents) made it a unique and bonding travel experience. No standing in line. No sad kids who don't meet height restrictions. Just the water. The sun. And your most favorite people — on a boat.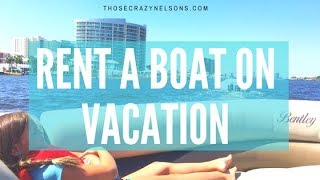 Renting a boat in Gulf Shores
Wondering if you should rent a boat next time you're on vacation? Watch this and tell me what you think!