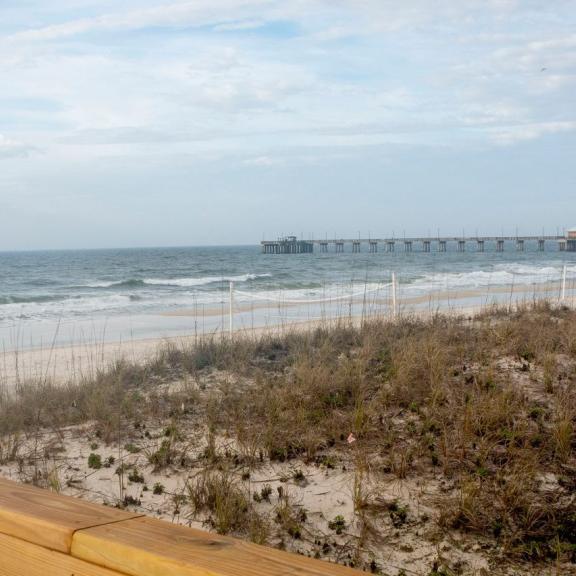 The Calm After the Storm: 4 Key Meetings Learnings from Hurricane Sally
As if 2020 wasn't already a challenging year, in comes a hurricane to the Gulf of Mexico.
October 28, 2020
From the desk of...
Beth Gendler, CMP, CDME
Vice President of Sales
What we thought just a couple of days prior to coming ashore along Alabama's beaches would be a tropical storm far to our west with minimal impacts on our area turning into a strong direct hit category 2 hurricane. What I've learned throughout this roller coaster year is the resiliency of our community and the tourism industry. And, above all, human life, safety and coming together as a community are far superior priorities to anything else.
3. Availability is key
Helping groups relocate and/or reschedule has been going on virtually (no pun intended) all year, and now we've added Hurricane Sally to the COVID-19 mix. Just having communications up and running the day after the storm allowed me to answer a meeting attendee's questions about an upcoming conference he was planning to attend. It's a big deal to be available to people on the destination side for clients and on the planner side for attendees. To make things more readily available for planners, we've expanded our meeting planner marketing toolkit with resources such as a custom save-the-date, a custom digital banner ad package, ready-to-go destination copy and visual assets.
4. Community is powerful
The community coming together after a disaster is truly amazing and inspiring – a beautiful image of how we should be all the time, helping our neighbors and loving one another. We had a religious group that tried so hard to keep their meeting here, including pleading on the phone with one of our mayors explaining how the beach wasn't important to them this year; they wanted to be here and help the community rebuild, feed people and clean up. This sentiment shows how people who visit feel at home on the Alabama Gulf Coast and want to help their home away from home. 
The aftermath of Hurricane Sally has been met with a community that is more determined than ever to help one another and welcome back beach guests to an even better coastal treasure. We will continue to learn, grow and strengthen for generations to come.