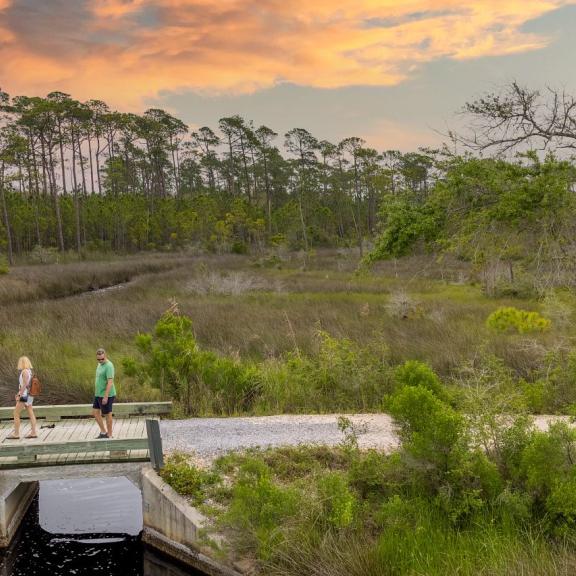 Walks and Talks: Educational Programs to Explore at Bon Secour Wildlife Refuge
This is part three in a series of three blogs on the Bon Secour National Wildlife Refuge. 
The Bon Secour National Wildlife Refuge offers more than 7,000 acres of vibrant coastal habitat to explore. Immersing yourself in these Gulf Coast landscapes is a great way to learn about the area - but what if you don't know what you're looking at?
You ask the experts, of course! In part three of our Wildlife Refuge Series, we're exploring all the educational opportunities available to refuge visitors. From guided tours to helpful brochures and even educational experiences, refuge staff and volunteers provide a variety of programs to help visitors understand the world around them. Best of all, most of them are completely free! 
Before you tackle the trails, consider trying one (or all) of these educational opportunities:
Seasonal Interpretive Programs
Throughout the year, refuge staff and volunteers put on a variety of seasonal interpretive programs for visitors to enjoy. These guided programs include nocturnal night prowls, seine fishing in Little Lagoon, butterfly tagging, and more. Stay tuned to the refuge website and Facebook page for information on upcoming programs. 
Trail Guides
If you prefer a solo tour of the trails, be sure to stop by the Bon Secour National Wildlife Refuge Visitor Center before you begin. Here you'll find a variety of displays and brochures that provide information on the flora and fauna you'll see in the refuge and along the Alabama Gulf Coast. You can also pick up a trail map, get insider knowledge from refuge staff, and learn about upcoming programs and activities.
The visitor center is located at 12295 Highway 180, Gulf Shores, AL 36542. Hours may vary by season but are typically Monday through Friday, 9 a.m. to 2 p.m. Call 251-540-7720 for the most up-to-date information.