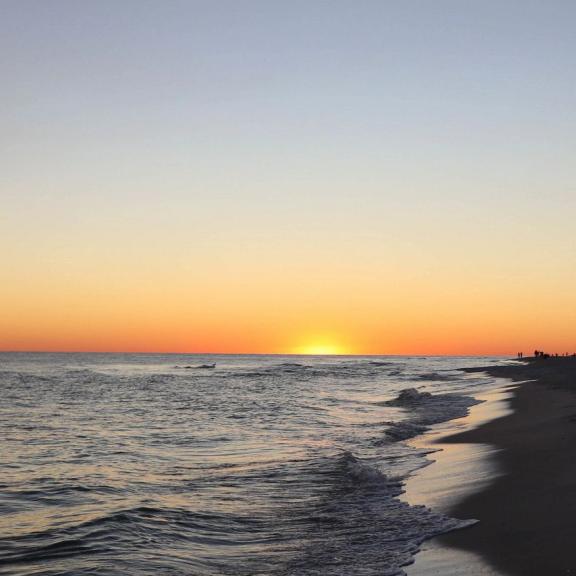 Celebrate the Start of 2021 on Alabama's Beaches
Outdoor Adventures and Other Things to Do in January
December 15, 2020
As the clock strikes midnight on January 1, 2021, we're likely to hear a collective sigh of relief from people all over the world. This past year has been challenging for a number of reasons, but it's also made us grateful for many things we once took for granted. One of those things is the ability to travel. Fortunately, Gulf Shores and Orange Beach provide plenty of opportunities to have safe, socially-distanced fun this January.
Top Three Things to Do This January on the Alabama Gulf Coast
Run the Beach
During 2020 many of us picked up new hobbies. And, for some, that hobby was running. Put those new (or old) skills to the test at the Big Beach Marathon, Half-Marathon or 7K. The Boston Qualifier course boasts delightful scenery as runners wind through the Gulf State Park and along the main beach road. Crossing over the finish line, you'll be looking out into the pristine waters of the Gulf of Mexico. The 7K takes place on January 30, while the marathon and half marathon happen on the following day. To make sure all racers and spectators stay safe, the event holders will be limiting group sizes, will have staggered start times, and will enforce social distancing.
Stay In
Are you ready to get out of your house but not necessarily ready to explore a new destination? Well, we've got the solution for you. Gulf Shores and Orange Beach are unique because the accommodations inventory in these two cities is primarily vacation rentals aka condos or beach houses. Many offer fully-equipped kitchens, large living and dining areas, spacious balconies and direct beach access. These amenities will enable you and your family to take a vacation this January that's both relaxing and safe. Of course, no vacation is complete without trying the local cuisine. As many are choosing not to dine out right now, most of our local restaurants are now offering delivery or curbside service. This way you can get your taste of the Alabama Gulf Coast without leaving the comfort of your car or condo. There are also several local chefs who can come to your condo or house for a private chef dinner. When you aren't indulging in our local fare, you can have your groceries and other items delivered by several area concierge businesses.  Before booking, be sure to check with your accommodations provider to learn about their pandemic protocols and cancellation policies. 
Learn about other things to do in Gulf Shores and Orange Beach by ordering a copy of our 2021 vacation guide.