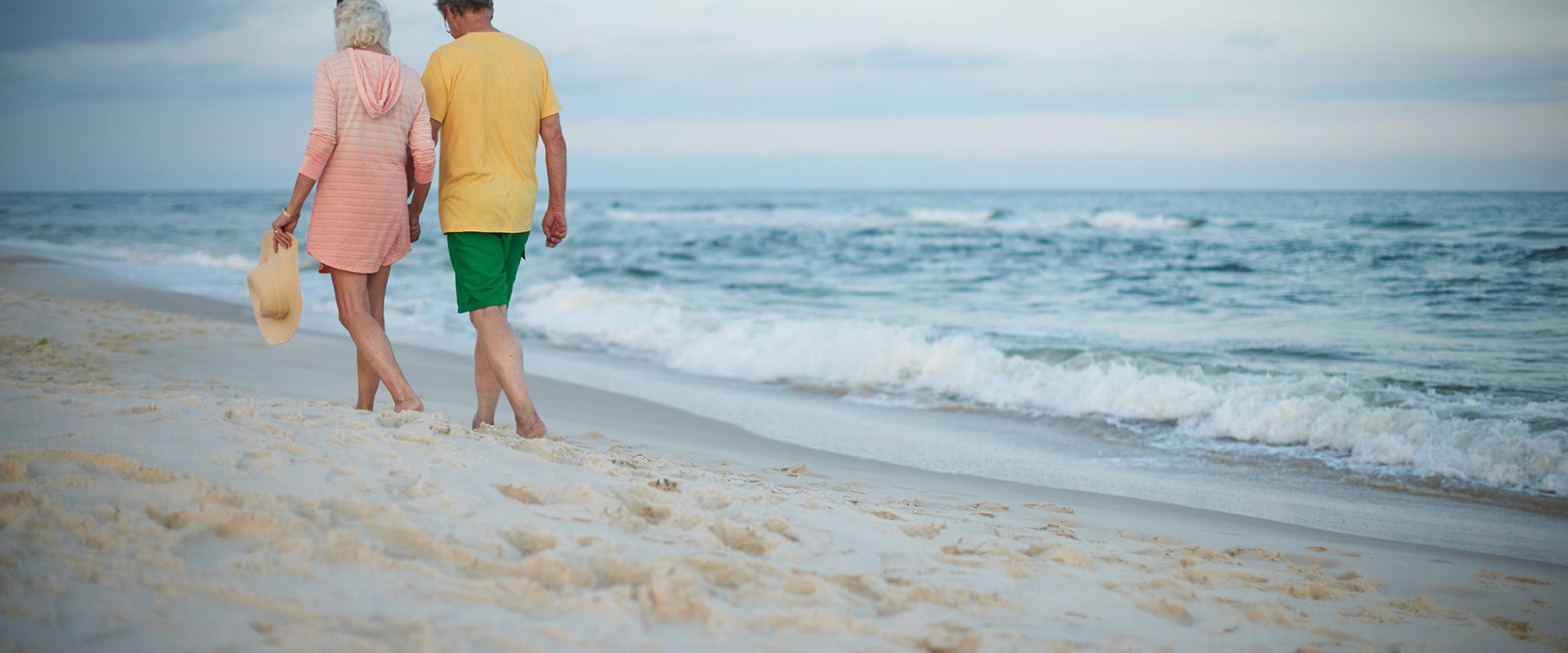 A Haven for Snowbirds on Alabama's Gulf Coast
Escape the snow for the sugar-white sand
January 4, 2019
Let the beauty of Gulf Shores and Orange Beach entice you to get out and explore in January. Soak up some sun under blue skies, stroll the sugar-white sand beaches and admire the beautiful turquoise waters of the Gulf. And the beginning of the New Year also brings lots of fun things to see and do, scrumptious dining experiences and one-of-a-kind events. You will go home relaxed, with lots of memories and with a strong longing to return soon.
Welcome Centers' Free Winter Lecture Series - Weekdays from Monday, January 14 to Thursday, February 28 (times vary) at the Welcome Centers in Gulf Shores and Orange Beach. Learn from the Alabama Gulf Coast's local artisans, nature tourism specialists, historians and others who are devoted to the area.
2018 Reese's Senior Bowl - January 26, 1:30pm-5:30pm in Mobile. Admission: $30, $20, $10. The Senior Bowl showcases the nation's best senior collegiate football stars and top NFL draft prospects. Senior Bowl practices and game week festivities are attended by more than 800 general managers, head coaches, assistant coaches, scouts and others from all 32 National Football League teams. Keep in mind that Mobile is only a short drive from the beaches of Gulf Shores and Orange Beach.
Ice Skating Rink at The Wharf - January 1,2, 3, 4, 6, 7, 8, 9, 10, 11 and 13. Mon-Fri: 4pm-10pm, Sat-Sun: 10am-10pm. $10 to skate (including skate rental), $13 for skating and ferris wheel combo, or frequent skater pass $80 (10 skates). Glide and spin on a pair of skates with your family and friends into the season.
Arsenic and Old Lace at South Baldwin Community Theatre - January 4, 5, 10, 11 and 12 starting at 7:30pm and January 6 and 13 at 2:30pm. Adults $18 and students $15. Enjoy the gripping tale of the Brewster family and how they descended from Mayflower settlers but have now turned into insane homicidal maniacs.
Adult Culinary Classes: Loving Legumes - January 7, 4pm-7pm. Admission: $30 at Coastal Alabama Community College, Gulf Shores Campus. Join Instructor Matthew Palamar and learn creative ways to incorporate the superfood legumes into your diet.
Customer Appreciation Night at Flora-Bama - January 13 and every second Sunday of the month in 2019 from 4pm-6pm. Free admission includes one drink, free food while supplies last and 25 percent off in the gift shop.
2019 Snowbird Fest at Orange Beach Event Center at The Wharf – January 25, 9am-1pm. Admission is free and includes great entertainment, delicious food from local hot spots, fun giveaways, door prizes, and more exhibitors than ever before. 
Genghis Khan: The Great Civilizer at Gulf Coast Exploreum Science Center & IMAX® Dome Theater in Mobile. Beginning January 26 from 9am-5pm. Admission varies. Journey back in time with one of history's most prolific and controversial figures, Genghis Khan, known as a world conqueror, civilizer and innovator.
Big Beach Marathon & Half Marathon - January 27 from 8am-4pm at The Hangout. Registration varies. The flat and fast course runs through the paved trail system of Gulf State Park before finishing the last three miles on Beach Boulevard with great views of the Gulf. The marathon is a Boston Marathon qualifier. Each participant receives a custom finishers medal, a race shirt, and access to post race party with free beer, food and live music.
Adult Culinary Classes: Mediterranean Morocco - January 28, 4pm-7pm. Admission: $40 at Coastal Alabama Community College, Gulf Shores Campus. Join Instructor Matthew Palamar and explore one of the most complex cuisines in the world including unique flavor combinations that are soon to become your favorites.
Simply Sinatra presented by Small Town, Big Beach Productions - January 28-29, 7pm-9pm. Tickets are $35 at Erie Meyer Civic Center. Simply Sinatra with Steve Lippia has become one of the most prominent, in-demand vocalists creating a perfect blend of classic with present day. The show introduces a new generation to the timeless music of Frank Sinatra while appealing to long-time listeners.
Not Just Glitter and Glue Craft Club - January 29-April 30 (last Tuesday of each month) from 10:30am-12pm at Thomas B. Norton Public Library in Gulf Shores. Admission is free but signup is required. It features different crafts each month with all supplies provided.
Jack of Diamonds at South Baldwin Community Theatre - January 31 and February 1, 2, 7, 8, 9, 14 and 15 at 7:30pm, and February 3, 10, 16 and 17 at 2:30pm. Adults $18 and students $15. Four retirees are faced with financial ruin when they become victims of a Ponzi scheme. Pandemonium ensues as they try to find a way to exact their revenge, recoup their losses, and keep the authorities from discovering their plans.
Gulf Shores and Orange Beach have lots to offer the beach bum, nature lover, sports enthusiast and food connoisseur. Visit GulfShores.com to learn more.