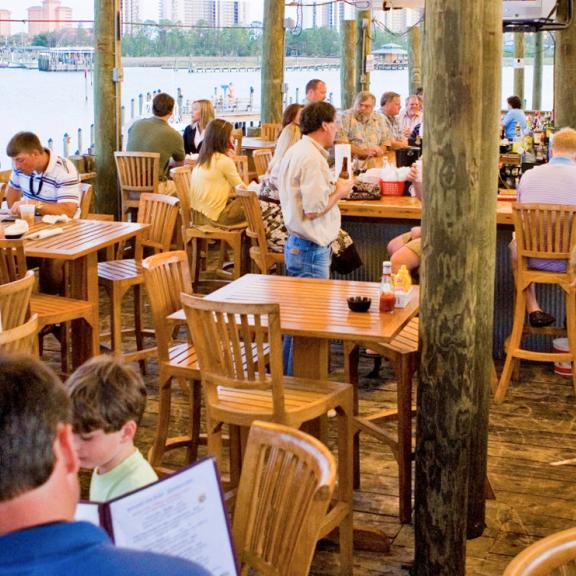 Restaurants to Satisfy your Post-Game Cravings
We all crave a hearty meal after sitting through an extensive sporting event. Not sure where to go? We're here to help with a list of recommended restaurants categorized by your cravings.
June 8, 2021
Oyster Cravings
Doc's Seafood and Oyster Bar: Enjoy the laid-back atmosphere offering almost-famous "sho'nuff" seafood. Doc's Seafood Shack and Oyster Bar has great gumbo and famous fried shrimp. Doc's is where the locals go.

Cobalt: Contemporary coastal cuisine at its best with all kinds of oyster options from raw to chargrilled. Nestled under the Perdido Bay Bridge, next to Caribe Resort, enjoy a spectacular view of the bay from every table. For those who wish to approach by water, there are boat slips available. Cobalt offers a casual and relaxing atmosphere with waterfront dining, live music and superior service.
Fried Food Cravings
The Hangout: Spend a day at The Hangout with fun for everyone! Where Highway 59 meets the sandy, white beaches of Gulf Shores, the restaurant features full-service dining, beach access, and a courtyard with a ton-of-fun sand pile, games, retail shopping, stages for live music and bars.
Tacky Jack's: This is the People's Choice Awards winner consistently for Local's Favorite Hangout, Best Happy Hour and Best Island Atmosphere. Enjoy good food, good music and good times.
LuLu's: Lucy Buffett's LuLu's is known for GREAT food, LIVE music and FUN times. Located on the Intracoastal Waterway in Gulf Shores, come enjoy scenic views, sandy beach, and the best Cheeseburger in Paradise. Live music nightly, a fun arcade, three-story climbing ropes course, the Mountain of Youth, smaller Munchkin Mountain for the little tykes, full allergy-free menu, gift shop and boat dockage.
Seafood Cravings
GT's On The Bay: Savor unique culinary choices and a blend of local favorites in a family-friendly atmosphere with a stone hearth pizza oven and fresh-made salad bar as well as craft beers and daily happy hour.
Flora-Bama Ole River Grill: Offering waterfront dining with AC inside and a 2,500-square-foot deck outside. Enjoy cold drinks, delicious seafood and an amazing view.