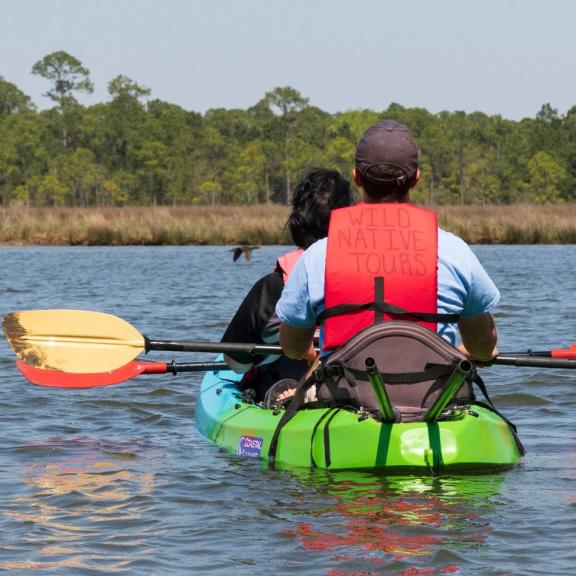 Signature Hands-On Adventures
In Gulf Shores & Orange Beach
Looking for hands-on activities to do at Gulf Shores? Choose one of our unforgettable Signature Experiences and embark on a hands-on adventure. 
March 14, 2023
There's no shortage of things to do here in Gulf Shores and Orange Beach, but when you're ready to go beyond the beach, choose one of our unforgettable Signature Experiences and embark on hands-on adventures only available in coastal Alabama.
Nature lovers can immerse themselves in the unique biodiversity of the Alabama Gulf Coast. At the same time, beginning anglers can learn tips and tricks for reeling in dinner at the Gulf State Park Pier. Animal lovers can meet and greet some furry friends at The Alabama Gulf Coast Zoo. All these and more are part of a series of experiences available for visitors to Alabama's beaches. Experience the beach like you never have before!
Signature Experiences are offered by locals passionate about sharing their love for the place they live, work, and play. Don't just sightsee. Immerse yourself in the native wildlife, history, and culture of the Alabama Gulf Coast.
Dolphins and Wildlife Tour: WildNative Tours
Paddle your way through the waterways of Gulf Shores with an experienced guide from Wild Native Tours. Take a kayak excursion to observe dolphins and other wild residents in the area. You'll learn about the bottlenose dolphin and other wildlife that call the Gulf Coast home.
Hands-On
Deep-Sea Fishing: Reel Surprise Charters
Cast off for an exciting day in the Gulf on a charter fishing adventure with Reel Surprise Charters. The captain and crew provide you with everything you need for a fun, memorable time on the water.