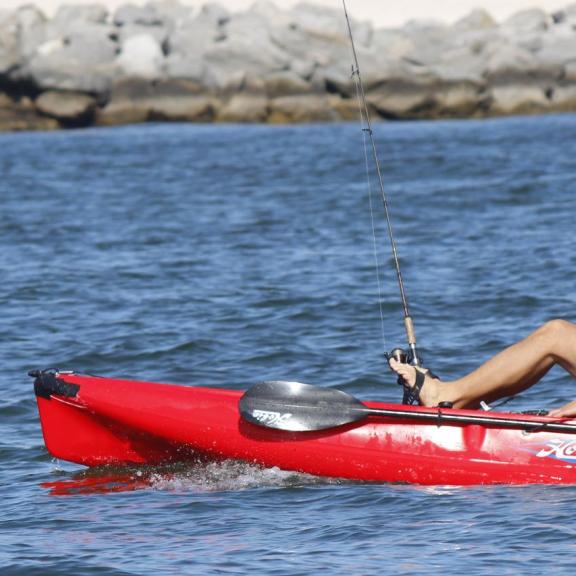 Top 3 Reasons to Try Kayak Fishing in Gulf Shores & Orange Beach
When it comes to fishing in Gulf Shores & Orange Beach, there is something extra special about casting off in a kayak.
July 28, 2020
For those who have taken up the sport, there is no going back. The Alabama Gulf Coast boasts some incredible waterways, perfect for kayak fishing and the area offers the ideal spot to try it for the first time or for the 100th time! 
"Kayak fishing in Gulf Shores is a great way to explore and get up close and personal with the wildlife our area has to offer. It's a great, relaxing alternative to traditional powerboating," said Scott Kennedy, owner and guide at Whistlin Waters Kayak Fishing Charters.
Scott introduces visitors to kayak fishing, as well as acts as a guide for seasoned fishermen who come to Gulf Shores and Orange Beach in search of the big one – the fish that earns bragging rights until the next vacation. As a third-generation Mobile Bay fisherman, Scott knows exactly where to paddle to put his guests on the day's fresh catch and he offers the following reasons you should paddle your way through Alabama's beaches.
Variety of Waterways to Explore in Gulf Shores & Orange Beach
Have you ever wanted to try fishing in the marsh? Kayak fishing is perfect for that. Get up close in the environments that many species of fish live without the fear of getting stuck in a large vessel or spooking the fish with a motor. It doesn't stop there, though! When kayak fishing on the Alabama Gulf Coast, you can get offshore to brave the Gulf, over to the lakes for some freshwater fishing, and in the canals - all within just a few miles. The variety of species to catch and waterways to navigate make Gulf Shores and Orange Beach a special place for anglers. 
21 Kayak Launches
It can be hard to find such a family-friendly vacation destination that also has so many launches within minutes of your hotel or condo. There are 21 kayak launches along the Back Bay Blueway, so there's sure to be a great catch just a short distance from your condo. Here, you will be able to get on the water quickly, leaving you more time to check activities off your bucket list and less time traveling to each spot. Make sure you don't forget to check out Little Lagoon while you're here! 
Fishing-friendly Weather, Year 'Round
When it comes to kayak fishing, weather is important. Being safe and taking account for how the winds and waves are acting is a top priority. Our plot of sunshine on the Alabama Gulf Coast has vacation-worthy weather all year 'round, making it a great spot for kayak fishing no matter when you decide to visit with us. 
If kayak fishing is on your radar, then Gulf Shores and Orange Beach is a phenomenal place to make this happen. Our resident kayak fishing guide, Scott Kennedy at Whistling Waters can take you on an adventure that'll tick all the boxes. Scott passes on his secrets for fishing for redfish, trout, and more while you get to experience our beautiful water from as close as possible. It's an activity you won't soon forget. In fact, you may just be hooked!
Check out this video to learn more about kayak fishing in the destination.