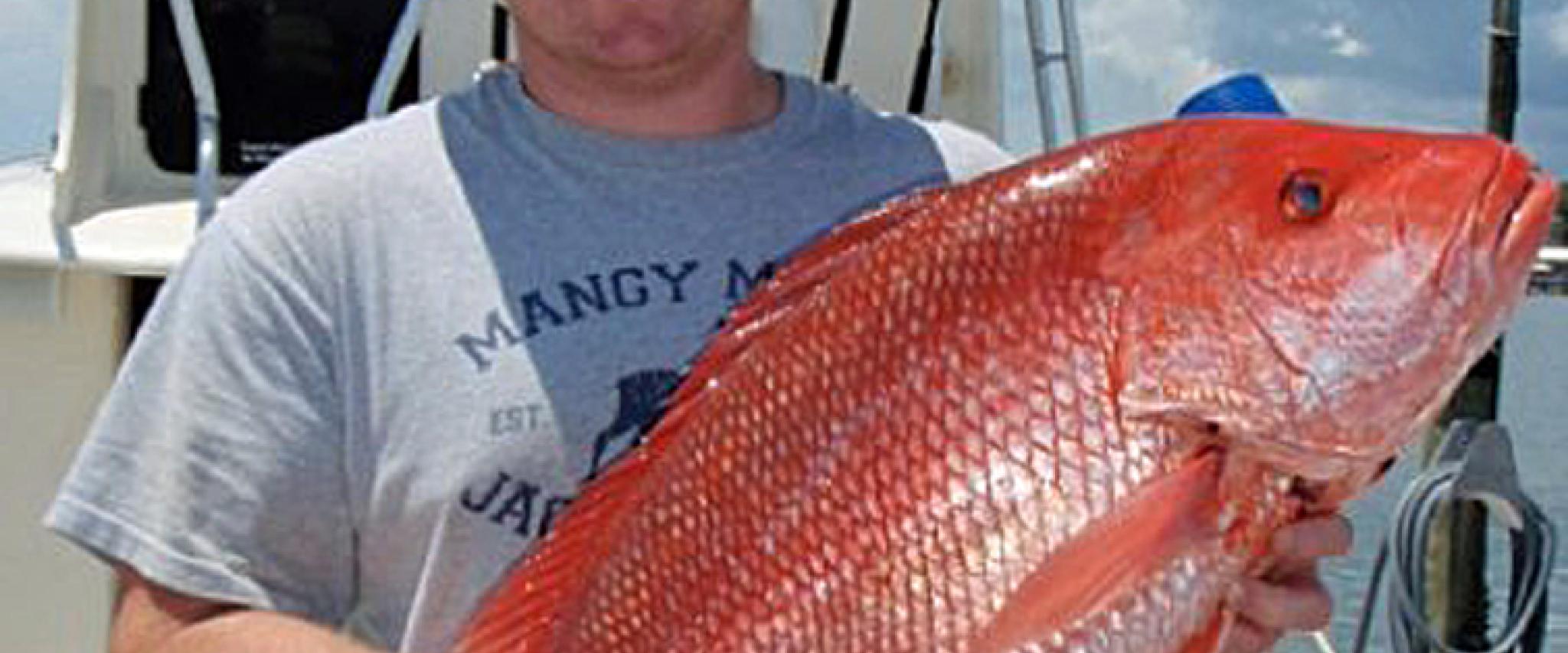 What's Biting
Get Ready for Opening of Alabama Snapper Season 
May 1, 2019
The anticipation along the Alabama Gulf Coast is building as the opening day of red snapper season fast approaches. The season opens on Saturday, June 1, so it's time to make sure all your gear is ready to go for opening weekend.
Hopefully, private recreational anglers have had plenty of time to make sure their boats are seaworthy and are confident the vessel will be safe to venture out into the Gulf of Mexico. Although you can catch red snapper within 10 miles of the shore, most snapper anglers end up in the highly productive waters about 15-20 miles from the beach.
Remember that snapper anglers must use circle hooks that are not stainless steel or offset when using natural baits, which is used by the vast majority of anglers. For those visiting the Alabama Gulf Coast and are not familiar with circle hooks, don't try to set the hook. All you should do is start to reel when you feel the bite and resist the tendency to jerk the rod. Circle hooks are designed to slide down the fish's throat and hook the fish in the corner of the mouth. That makes catch and release much easier and does very little damage to the fish.
As far as rods and reels, anglers use all sorts of tackle. You can get by with lighter tackle if you're a seasoned angler, but you also take the chance of losing a big sow snapper, which can grow larger than 25 pounds. Most snapper anglers use heavy rods with reels capable of holding 50- to 80-pound test line. You'll also need a variety of lead weights that will help you get the bait to the fish, depending on how heavy the current is. If you have any questions, visit one of several excellent bait and tackle stores in Gulf Shores and Orange Beach. They'll be glad to help you get outfitted for your trip.
Alabama's red snapper season will operate under an exempted fishing permit in 2019 and then move to state management in 2020. The 2019 snapper season for anglers fishing from a private vessel or state-licensed guide boat will be three-day weekends (Friday-Sunday except for opening weekend) from June 1 through July 28, 2019, including Thursday, July 4.
Alabama's storied charter boat industry will operate under federal regulations in 2019. The charter boat season also opens on June 1, but it runs straight through for 62 days until August 2. Visit the Alabama Charter Fishing Association website for more information.
Don't forget that all red snapper must be reported through the mandatory Snapper Check program. The easiest way to submit the report is with the Alabama Department of Conservation and Natural Resources' Outdoor Alabama app, available for both iOS and Android users. If you don't have a Smartphone, paper reports are available at select public boat ramps. Only one report is required for each vessel landing red snapper in Alabama. The fish must be reported prior to the fish being taken off the boat, or the boat hauled out of the water.
Alabama's artificial reef program is second to none, and that means we have the best red snapper fishing in the world. Take the opportunity to enjoy catching and dining on Alabama's signature saltwater species.