2020 Winter Edition of Small Town, Big Beach Productions presents Harrison Greenbaum
Monday, Feb 17, 2020 -
Tuesday, Feb 18, 2020
From: 7:00 PM to 9:00 PM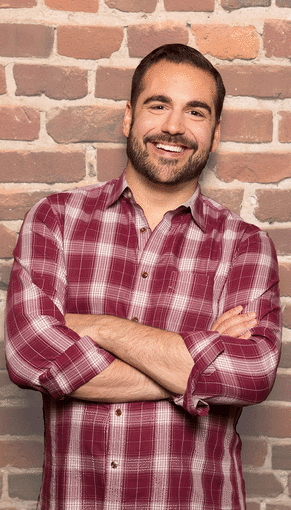 Admission:
Tickets are $35.
The City of Gulf Shores is excited to announce the 2020 Winter Edition Series coming to the Erie H. Meyer Civic Center. All shows will be held at the Erie H. Meyer Civic Center, located at 1930 West 2nd Street. The doors will open at 6 p.m., and the show will begin at 7 p.m. Tickets are $35. Tickets may be purchased online or in-person at the City Store, located at 1821 Gulf Shores Parkway in Gulf Shores.
Harrison Greenbaum will wrap up the 2020 Winter Edition Series on February 17-18 at the Erie H. Meyer Civic Center.
"The hardest-working man in comedy" (Time Out NY) and "one of the most unique acts you'll ever see" (am New York), Harrison is one of Comedy Central's "Comics to Watch" and winner of the Andy Kaufman Award.
On television, Harrison has been featured on America's Got Talent, Last Comic Standing, Conan, AXS.TV's Gotham Comedy Live, and National Geographic Channel's Brain Games.
As a magician, Harrison was named one of "today's best" by Newsday and tours around the world as one of the stars of The Illusionists: Direct from Broadway, the biggest selling magic show in history.
The most requested performer at Monday Night Magic, the longest-running Off-Broadway magic show in New York, Harrison has also performed at the Magic Castle in Hollywood, the Mystery Lounge in Boston, and was one of only 30 magicians chosen to perform at the International Festival of Magic, Illusion, and the Unusual in Louisville, Kentucky. He is also the proud winner of the Senator Crandall Award for Excellence in Comedy, given out annually at Abbott's Magic Get-Together in Colon, Michigan.
Harrison is a counselor at Tannen's Magic Camp and has been an advisor to the Society of Young Magicians in Boston and New York for almost a decade.
Harrison's solo comedy-magic show, Harrison Greenbaum: What Just Happened?, debuted at the legendary New York comedy hotspot, the Upright Citizens Brigade Theatre, before commencing an Off-Broadway run, and international tour that has included performances at the Kennedy Center in Washington, D.C, the Magic Castle in Hollywood, CA, and the legendary Comedy Cellar in New York, where it was the Cellar's first-ever magic show.