Dauphin Island Native American Festival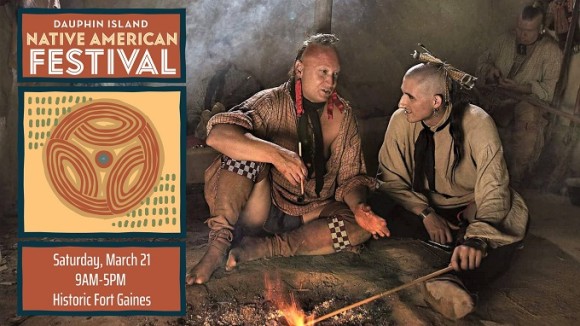 Admission:
Ages 13 & up - $12 | Ages 5-12 - $6 | Under 5 - Free
The second annual Dauphin Island Native American Festival will feature living historians and storytellers exhibiting 18th and early 19th century Creek hunting camps and telling stories such as the impact of trade on the Creeks during that period. This includes the Creeks who traded with the French who made port on Dauphin Island in 1699.
The Festival will also feature an exhibition of authentic Creek clothing, along with hands-on demonstrations of Native American arts and crafts, such as pottery, twining (finger weaving and rope making) and basket weaving. Native American food ways and the role of seafood in these cultures will also be highlighted and demonstrated. Festival attendees will have the opportunity to learn and participate in Native American recreational activities such as stomp dancing (a social style of dance) and stick ball. Food and arts and crafts will be available for purchase from vendors located adjacent to the Fort.