The Addams Family - The Musical Comedy
Thursday, Oct 07, 2021 -
Sunday, Oct 10, 2021
Daily
Starting at 7 p.m. on Oct 7-9 And 2 p.m. on Oct 10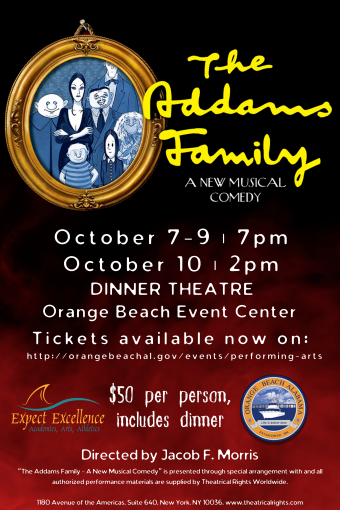 Admission:
$50 for Dinner and the Show
THE ADDAMS FAMILY, a comical feast that embraces the wackiness in every family, features an original story and it's every father's nightmare: Wednesday Addams, the ultimate princess of darkness, has grown up and fallen in love with a sweet, smart young man from a respectable family– a man her parents have never met. And if that wasn't upsetting enough, Wednesday confides in her father and begs him not to tell her mother. Now, Gomez Addams must do something he's never done before– keep a secret from his beloved wife, Morticia. Everything will change for the whole family on the fateful night they host a dinner for Wednesday's "normal" boyfriend and his parents.
Tickets are $50 each and include dinner and the show at the Orange Beach Event Center. Tickets for each show are capped at 300 (12% of the Event Center's maximum capacity), which will allow for spacious seating between tables. Halloween costumes are encouraged!
Performance dates are:
Thursday, October 7 at 7 p.m.
Friday, October 8 at 7 p.m.
Saturday, October 9 at 7 p.m.
Sunday, October 10 at 2 p.m.
The menu will include the following:
SALAD
House Salad-Mix Greens, Carrots, Red Onion, Shredded Parmesan, Tomatoes, Ranch Dressing
ENTREE
Chicken Alfredo-Grilled Chicken Breast, Spinach and Peas in a Creamy Alfredo Sauce over Fettuccine with French Bread
DESSERT
Assorted Cookies and Brownies
BEVERAGES
Sweet and Unsweet Tea and Water
Please note: Catering numbers prevent us from offering refunds after Sept. 30. If an extenuating circumstance occurs Oct. 1-10, please contact Jessica Langston at [email protected] to receive tickets to our next performance in lieu of a refund.