Legends In Concert - Summer Lineup
From: 07:30 PM to 09:00 PM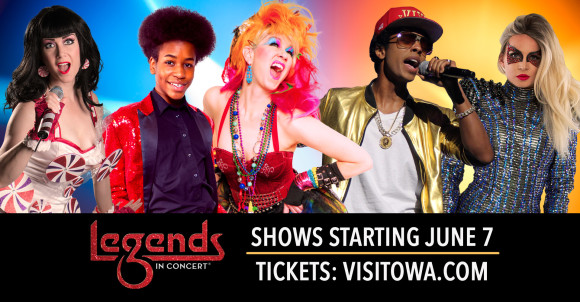 Legends in Concert and the OWA Theater are ready to kick off summer with a sizzling hot lineup of tributes to some of the biggest names in music. The most-awarded show in Las Vegas history, Legends in Concert, brings a pop sensation, the King of Pop, a 13-time Grammy winner and fashion icon, a 40-year pop music megastar and a little 24 karat magic, together on one stage, opening June 7. This show will feature not only the world's greatest tribute artists, but also high-energy dancers, backup vocalists, a live band, magnificent costumes, elaborate theatrical sets, a full array of incredible special effects, and much more.
Fans will certainly feel the Roar of Nellie Norris' upbeat portrayal of Katy Perry and will find it hard to stay in their seats as they Shake Your Body down to the ground with Nae Cullors impeccable portrayal of Michael Jackson.   Lady Gaga returns with a Million Reasons to see Erika Moul's riveting performance of the Vegas Headliner, and Nellie Norris returns to prove Girls Just Want to Have Fun as Cyndi Lauper. Isaiah Mercado, as Bruno Mars, will welcome you Just The Way You Are while bringing the Uptown Funk to the summer stage and is sure to have you dancing in the aisles.
Legends in Concert will present summer line-up performances June 7 – September 4, at the OWA Theater, located in Downtown OWA, Tuesday through Saturday at 7:30 p.m., and with weekly matinee performances Saturday and Sunday at 4 p.m.
Run Dates
June 7 – September 4
Tuesday through Saturday: 7:30 p.m.
Saturday & Sunday matinees: 4 p.m.
Showtimes and lineup subject to change.
Tickets are currently on sale and can be purchased at VisitOWA.com/Tickets or by calling 251-369-6100. Group discounts for 10+ are also available.  
Admission:
Tickets starting at $39.95
See All Dates

08/09/2022

7:30 PM - 9:00 PM

08/10/2022

7:30 PM - 9:00 PM

08/11/2022

7:30 PM - 9:00 PM

08/12/2022

7:30 PM - 9:00 PM

08/13/2022

7:30 PM - 9:00 PM

08/16/2022

7:30 PM - 9:00 PM

08/17/2022

7:30 PM - 9:00 PM

08/18/2022

7:30 PM - 9:00 PM

08/19/2022

7:30 PM - 9:00 PM

08/20/2022

7:30 PM - 9:00 PM

08/23/2022

7:30 PM - 9:00 PM

08/24/2022

7:30 PM - 9:00 PM

08/25/2022

7:30 PM - 9:00 PM

08/26/2022

7:30 PM - 9:00 PM

08/27/2022

7:30 PM - 9:00 PM

08/30/2022

7:30 PM - 9:00 PM

08/31/2022

7:30 PM - 9:00 PM

09/01/2022

7:30 PM - 9:00 PM

09/02/2022

7:30 PM - 9:00 PM

09/03/2022

7:30 PM - 9:00 PM