2019 Pepsi Beach Ball Drop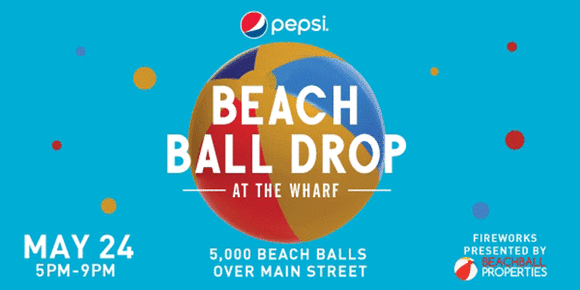 Admission:
Free admission.
Summer days are here and it is officially Wharf Season! Let's have some fun in the sun and kick off our So.Much.Summer with the Pepsi Beach Ball Drop!
Our 6th annual event will be televised on NBC 15, so make sure you are at the center of the action when over 5,000 beach balls fall from the sky! There will be dozens of family-friendly activities on site from a surf simulator, bouncy house, toxic battle jousting zone (inflatable battle zone), trampoline jumpee, bubble zone, face painting and a loving Kangaroo to pet!
During the actual drop, there will even be a designated kiddo area to safely grab beach balls. Plus check your beach ball for a letter and you may be a lucky winner of some select prizes!
The DJ will be spinning some feel-good tunes throughout the evening. Icing on the cake – fireworks, brought to you by Beach Ball Properties, will start at 8:45 pm! Come usher in this glorious time of year with us!