Independence Day – Street Party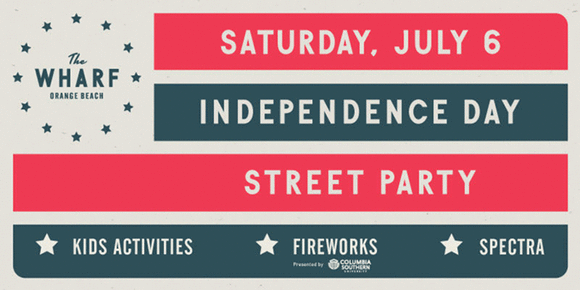 Admission:
Admission is FREE; Face painting - $5, $7 & $10, Trampoline Jumpee & Camel Rides - $5
We are celebrating our great nation's birthday with the biggest street party on the Gulf Coast! Join us for our Independence Day Street Party on Saturday, July 6 for the ultimate freedom celebration!
We will have oodles of activities for the whole family to enjoy like our surf simulator, interactive arena and our famous bubble zone! Let's not forget the adorable, fluffy animals to pet! Our kid-friendly activities are sponsored by Christian Life The Island Church.
We will be handing out American flags to wave when the sun sets and our iconic palm trees will sparkle a patriotic theme of red, white, and blue! Set up shop on Main Street for the perfect fireworks viewing spot presented by Columbia Southern University. Stay for a little while longer to see the patriotic Spectra Sound and Light Show!