Hypnaughty
From: 06:00 PM to 08:00 PM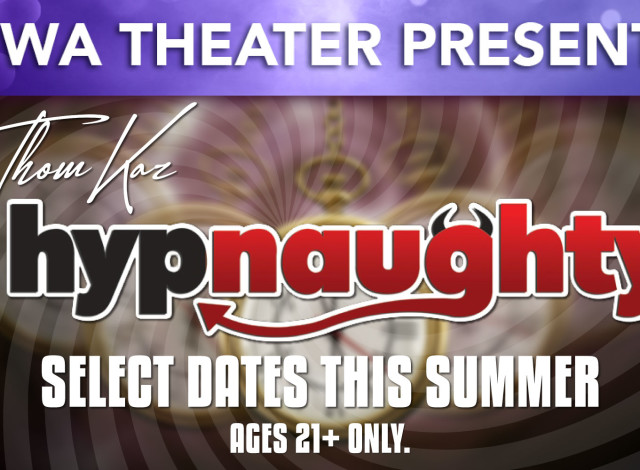 Join the fun and unleash your hidden abilities with Thom Kaz's Hypnaughy show. This fast-paced comedy hypnosis experience will have you on the stage laughing and perhaps hypnotized at the same time. World-renowned hypnotist, Thom Kaz, brings his high-octane comedy hypnosis show to OWA Theater select dates this summer. Guests of the show are invited to join the fun and unleash their hidden abilities in this one-of-a-kind adult hypnosis show.
Don't wait; grab your tickets today for a totally hypnotic evening this summer here at Hypnaughty – OWA (visitowa.com).
This show is for ages 21+ only.
Admission:
Adult – $34.99++
See All Dates

06/08/2023

6:00 PM - 8:00 PM

06/15/2023

6:00 PM - 8:00 PM

06/29/2023

6:00 PM - 8:00 PM

07/06/2023

6:00 PM - 8:00 PM

07/20/2023

6:00 PM - 8:00 PM

08/03/2023

6:00 PM - 8:00 PM

08/17/2023

6:00 PM - 8:00 PM

08/31/2023

6:00 PM - 8:00 PM