Madrigal Dinner
Friday, Dec 13, 2019 -
Saturday, Dec 14, 2019
Daily
Starting: 6:00 PM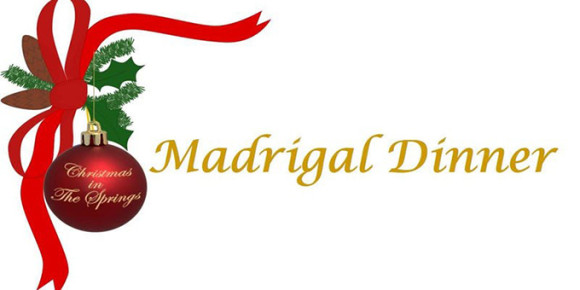 Admission:
Tickets are $50 per person.
The second Madrigal Dinner produced by the Magnolia Springs Community Association is December 13 and 14, beginning at 6pm. This fun and entertaining fundraising event takes place in our century-old Community Hall.
Guests of King Henry and Queen Isabelle will be transported to England in 1475 to enjoy a five-course meal, humorous skits, Wassail toasting and holiday music by Madrigal Singers and guests.
This year's menu is a hearty and delicious five-course meal consisting of a table cheeseboard, mixed green salad with vinaigrette dressing, French onion soup, beef tenderloin served with roasted potatoes and green beans, rolls, and a delicious dessert of Cherries Jubilee.
Tickets are $50 per person. Tickets may be purchased at www.magnoliaspringsal.org or contact Helen Soule at 703-473-6944. Seating is limited, so purchase your tickets or call today to avoid disappointment. Dinner guests may also bring their own wine; a corkage fee of $5 will be charged.