Genghis Khan: The Great Civilizer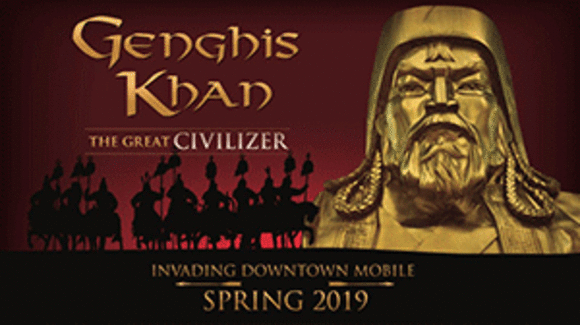 Admission:
Our admission prices vary depending on age of guest.
In the tradition of years past, the Gulf Coast Exploreum Science Center is proud to announce a return to major blockbuster exhibitions in the Spring of 2019. On the scale of its China and Pompeii exhibits, the Exploreum invites visitors to take a journey back in time with one of history's most prolific and controversial figures – Genghis Khan.

Through artifacts, performers, artwork, and other historically significant items, discover the eye-opening story of the world's most well-known conqueror, civilizer and innovator in the exhibition Genghis Khan: The Great Civilizer opening at the Gulf Coast Exploreum Science Center on Saturday, January 26, 2019.

Curated and developed by dinosaur expert Don Lessem, the exhibition features more than 300 spectacular objects on display, including rare and sophisticated weapons, costumes, jewels, ornaments, instruments and numerous other fascinating relics and elaborate artifacts from 13th-century Mongolia. "I went to Mongolia to look for fossils and discovered the truth about Genghis Khan, a civilizing genius," said Lessem. "It's a great story best told in a major exhibition."

Experience life in 13th-century Mongolia, entering the tents, battlegrounds and marketplaces of a vanished world that was once the largest land empire in history. Explore Genghis Khan's life and those of his sons and grandsons during the formation, peak and decline of the Mongol Empire.

As the exhibit strikingly portrays, Genghis's reputation as the greatest conqueror is well-deserved – he dominated three times more land in his lifetime than either Julius Caesar or Alexander the Great, a conquest attested to by the formidable array of swords, bows, arrows, saddles and armor included on display in Genghis Khan. In fact, the historic exhibition showcases hundreds of artifacts from Genghis's 13th century Empire, the largest such collection ever to tour.
 
However, this special exhibition presents a more complete image of the legendary leader whom Time Magazine and CNN named "The Man of the Millennium." As visitors discover, Genghis not only created the nation of Mongolia and its written language, but his lineage established the modern borders of nations from India to Iran, Korea to China and opened the trade routes that united East and West, forever after.