New Year's Eve Bash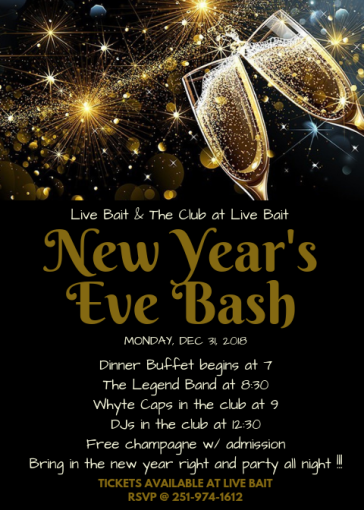 Admission:
$75 for couples, $40 for singles, $15 for general admission (no buffet included)
You are invited to Live Bait's New Year's Eve Bash starting with an extravagant dinner buffet at 7pm and ending at 8:30pm featuring:
•    Prime rib carving station
•    Steamed shrimp
•    Grilled fish
•    Blackened chicken breast
•    Scalloped potatoes
•    Oven roasted potato medley
•    Broccoli and cheese casserole
•    Mixed vegetables
•    Rice pilaf

The Legend Band, formally from Nolan's, will begin in the main bar between 8:30 and 9pm
Tickets for couples include: Reserved table, buffet, beverage, and a bottle of champagne, access to the club, and party favors.
Tickets for singles include: Reserved seating, buffet, beverage, and a glass of champagne, access to the club and party favors.
Door admission includes: Glass of Champagne at midnight, party favors, and access to the club.

The Restaurant will close around 1am, but the party will continue at the club until 2:30am.
RSVP ONLY for tickets for the dinner buffet and reserved tables, guests may call Brandi or Shyrel at 251-974-1612 or visit Live Bait at 24281 Perdido Beach Blvd., Orange Beach.

The Club will begin their party at 9pm with the local band, The Whyte Caps playing until 12:30am then we will kick things up with the up and coming DJs "COONXY and MEACHIE" playing until 2:30am.

Admission to the club, unless purchased tickets or admission at the main restaurant will be $15, which includes party favors and a glass of champagne at midnight.
We will be doing a huge countdown and balloon drop at midnight so do not miss out!