River Rat Reunion - LuLu's Gulf Shores 20th Anniversary Party!
From: 11:00 AM to 4:00 PM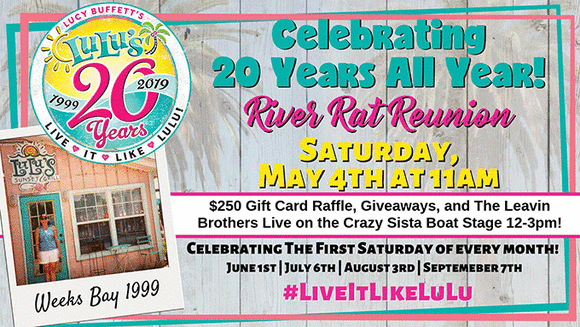 Admission:
Free admission.
We will be celebrating our 20th Anniversary ALL YEAR LONG. Calling all Fish River Rats. Come by LuLu's on Saturday, May 4 at 11am for a River Rat Reunion - LuLu's 20th Anniversary Party.

The Leavin Brothers will be playing live on the Crazy Sista Boat stage from 12-3pm so pull up a chair and enjoy the show. There will also be a $250 Gift Card Raffle, Giveaways, Birthday Cake and more. We are bringing back the Creola Blackened Grouper Sandwich with Fried Green Tomatoes from the original LuLu's Sunset Grill Menu for this day only, get it while it lasts. And a nod to the old way of doing things, River Rats & Friends will get free L.A Caviar.