Treasures of the Isle presents 13th Annual Kentucky Derby & Drawdown Party
Live Bait Food & Spirits
24281 Perdido Beach Blvd.
Get Directions
Hours of Operation
11AM-9PM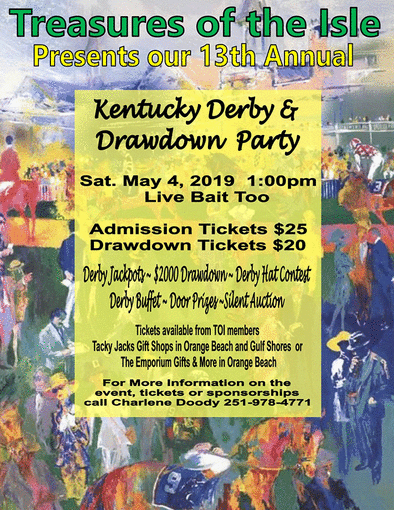 Admission:
Tickets: $25; Drawdown tickets: $20
The Treasures of the Isles invites you to join them for their 13th annual Kentucky Derby & Drawdown Party on Saturday, May 4 beginning at 1pm. Tickets are $25 and drawdown tickets are $20. There will be derby jackpots, $2000 drawdown, derby buffet, door prizes and a silent auction. Tickets are available from TOI members, Tacky Jacks Gift Shops in Gulf Shores and Orange Beach or The Emporium Gifts & More. For more information call Charlene at 251-978-4771.