Bring Your Tailgate Party to Gulf Shores, Orange Beach
September 29, 2014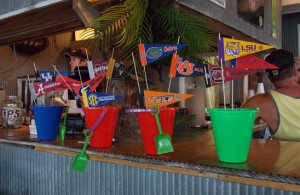 Score a touchdown with your family with an away-game tailgate at the beach. Fall brings smaller crowds and some great deals on Orange Beach hotels and Gulf Shores condo stays on the sandy shores of the Alabama Gulf Coast.
Have a football fanatic
in the family? Leave him or her happily in a comfy chair with plenty of snacks and beverages while you and the other less-football inclined hit the beach, the shopping centers or attractions. Show your team spirit by bringing out the chairs, umbrellas and towels that tell everyone the team you're pulling for while you play a game of football on the sand or relax on the beach.
You can even catch the game at many restaurants throughout the area. Call ahead to see what game will be playing to find your home team. You'll likely find a few rivals there, too! If your gang watched the game at your condo or beach house, then retreat for a post-game meal at a Gulf Shores or Orange Beach restaurant that scores touchdowns with patrons every day. Check the restaurant directory for a selection of sports bars and beachside eateries.
Come experience a whole different state of tailgating on Alabama's white-sand beaches this football season.