Stand-up paddleboarding (SUP) and foil boarding have become popular water sports for fun and exercise in Gulf Shores and Orange Beach. The calm inland waters offer a perfect training ground for those new to the sport. For the more adventurous, the Gulf of Mexico provides an even greater challenge, depending on surf conditions. The great news is that you don't have to choose when visiting the Alabama Gulf Coast. All the best spots are close in proximity and easy to access.
You're probably familiar with paddleboarding but may have never heard of foil boarding. A foil board is a small surfboard with a hydrofoil (a winged fin) that's submerged below the water and causes the board to sit a few feet above the surface. Riding a foil board is similar to surfing or skateboarding, and being above the waves gives riders the sensation of flying.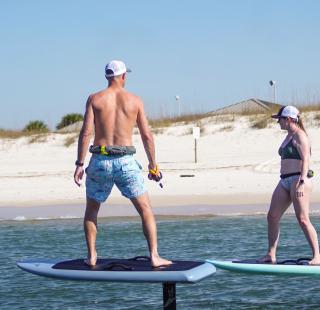 Favorite Places to Paddle & Foil Board
Lake Shelby
Lake Shelby is a 900-acre freshwater lake, within sight of the Gulf, in Gulf State Park. Stand-up paddleboards and other equipment rentals are available on-site seasonally. There is also an oak-covered picnic area and a bathhouse.
Best Public Access Point: Gulf State Park Lake Shelby Area
Wolf Bay
Wolf Bay is a vast brackish water body with many access points along the Orange Beach Canoe and Kayak Trail. At Orange Beach Waterfront Park, you'll find a pier and beautiful green space. There are miles of shoreline to explore on a paddle or foil board. 
Best Public Access Point: Orange Beach Waterfront Park
Little Lagoon
Little Lagoon is 10 miles long and half a mile wide, with primarily calm, shallow waters and limited access to the Gulf. It's bordered by the protected shores of the Bon Secour National Wildlife Refuge and is an excellent spot for viewing resident and migratory birds and other local wildlife.
Best Public Access Points: Mo's Landing Lagoon Park; Bon Secour National Wildlife Refuge: Jeff Friend Trail
Gulf of Mexico
The back bays of the Gulf of Mexico are a favorite of advanced and experienced boarders. Vast blue waters, variable wave action and the best beach views anywhere make an excursion here a highlight for seasoned paddle and foil boarders.
Best Public Access Points: Gulf Shores and Orange Beach Public Beach Access Points
Renting Paddleboard & Foil Board Gear
You don't have to haul your gear, either! Specialty rental companies are ready and waiting to deliver just what you need for an outing. Check out our rental company listings and plan your trip now. They will even deliver it if you need to rent gear. Our rental companies even offer lessons with certified instructors if you want some training before taking off on your own.
Are you ready to take a stand? Plan your Gulf Shores trip now. Join the many enjoying the SUP and foil board trend year-round on Alabama's Gulf Coast. Whether you want to relax and glide or challenge your core with a workout, Gulf Shores and Orange Beach have the spot for you. Paddleboarding and foil boarding are sure to add excitement to your next visit. Be sure to check out other exciting water activities, including kayaking, Jet Skiing, and parasailing