Helicopter Tours, Gyroplanes, Parasailing, & More!
Our local tour guides will ensure you stay on schedule to maximize your vacation time in Gulf Shores & Orange Beach. Scroll down to learn more about all of the guided tours you can book when visiting the beaches of Gulf Shores & Orange Beach, Alabama. Also, be sure to check out our beach rentals nearby to find a great place to stay.
Guided Tours in Gulf Shores & Orange Beach
Tour the Alabama Coast with a Pro
From Segway tours, sunset cruises on a boat and educational pier walks by the beach to kayaking excursions and dolphin cruises, booking a guided tour in Gulf Shores & Orange Beach is a fantastic way to explore the coastal destination while also gaining facts and other information about the Alabama Gulf Coast. Our Gulf Shores & Orange Beach tour guides are here to help you make the most of your Alabama getaway by sharing everything they know about the area and wildlife.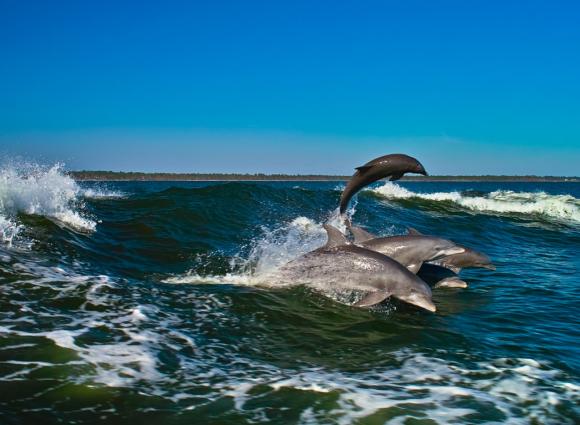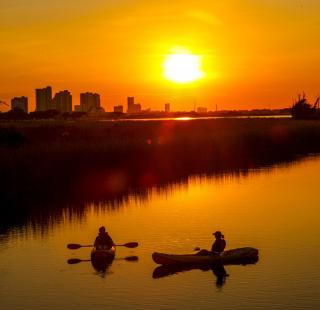 Dolphin Tours
Gulf Shores and Orange Beach are famous for their accessibility to dolphins via cruises and tours. Enjoy your time on a boat as you get up close and personal to these playful majestic creatures as they swim alongside your vessel. Dolphin cruises are amongst our most popular tourist attractions on Alabama's Gulf Coast.
Kayak Tours
Sure, you could rent a kayak and go off on your own, but here's what's waiting for you in a kayak tour:
A boat ride to the hidden-away places, known only to the guides and only accessible by kayak
Glimpsing osprey, pelicans blue herons and pelicans
Getting up close to playful dolphins
A relaxing and surreal experience you'll never forget
Segway Tours
Why walk when you can roll? And let's face it; Segways are just cool. After a quick tutorial on how to operate them and stay balanced, you're off on fun guided adventures through backcountry trails where your guide will point out birds, deer, and other animals. Segway tours are a low-intensity activity suitable for all ages while also giving you a thrill of driving a fun motorized toy!
Ziplining Tours
Ziplining is a rush like no other: riding the treetops over the lush coastal panorama below while you're suspended on a cable and reaching roller coaster speeds. Zip line staff is on hand to give you a quick how-to so you feel safe. After that, you're flying between the trees like a bird (a very big bird). Sometimes called "canopy tours," ziplining is enjoyed by all ages and fitness levels.
Hot-Air Balloon Tours
It's up, up and away on a hot-air balloon flight over Gulf Shores and Orange Beach, gently soaring over bays, bayous, and beaches. Flights generally take place in the early morning or later evening when the winds are lightest. Hot air balloon rides are an adventurous activity, perfect for a couples vacation or a small group.
Helicopter Tours
Taking off from Gulf Shores Airport, helicopter tours offer a variety of choices. Go purely scenic, flying above the dazzling Gulf Shores and Orange Beach shoreline for the best view you've ever seen. Or take a ride into the past, flying over the Civil War-era Fort Morgan and nearby Fort Gaines. From a helicopter at that height, you'll be able to spot shipwrecks resting on Alabama's Gulf sands as well fish and dolphin swimming below.
Delta Safari Tours
An ecotourism jewel just north of Mobile Bay, the Mobile-Tensaw River Delta includes a variety of habitats, including cypress swamps, brackish marshes, bottomland forests and underwater grass beds. A number of tour operators lead expeditions and delta safaris into state's largest wetland. Explore via airboat or tour boat. Either way, you will definitely see alligators.
Ready to see a tour of Alabama's magical Gulf Coast? Book your tour in Gulf Shores and Orange Beach today! Don't forget to also book your lodging accommodations including Gulf Shores and Orange Beach hotels, beach condos, and house rentals!