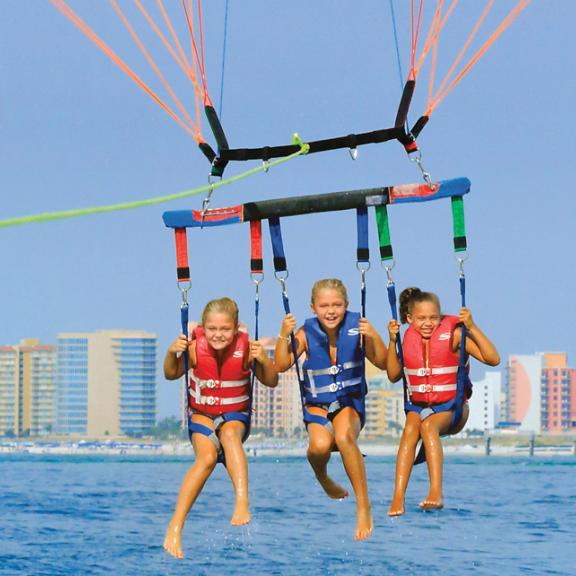 5 Action-Packed Activities
In Gulf Shores & Orange Beach
Your heart will be pounding with adrenaline when you explore all of the exciting activities in Gulf Shores and Orange Beach. Adventure seekers love to visit the Alabama Gulf Coast!
October 14, 2022
2. Dive Trip
Take a dive with a wide variety of marine life at four new snorkeling reefs in Gulf Shores and Orange Beach. You'll find two near Gulf State Park's Beach Pavilion, one at Alabama Point and one at Romar Beach. Or you might enjoy snorkeling at the Alabama Point jetties in Orange Beach, the Whiskey Wreck in Gulf Shores or the Paddle Wheeler in Gulf Shores. Dive deeper to the first deck and wheelhouse of the freighter The LuLu, sunk in 2013, or the New Venture, a 250-foot ocean surveying ship, sunk in June 2018. You might spot an octopus disappearing into its lair, a sea turtle languidly exploring the area and schools of fish flitting curiously around you.
4. Take to the Skies
Get your adrenaline pumping with high-in-the-sky adventures. Book now to assure your place for skydiving, or discover the thrill of flight over the beautiful white-sand beaches in a gyroplane.  Unlike a typical tour flight, you get an opportunity to fly the aircraft with the help of an FAA-Certified flight instructor! Looking for a one-of-a-kind view of the turquoise waters of the Gulf? Then parasailing is a must-add to your list.
After all the excitement from these activities and your tournament, you'll be ready to down a few cold ones and grab a bite to eat at one of the award-winning restaurants. After dinner, explore the many nightlife options from concerts and karaoke to one-of-a-kind bars.