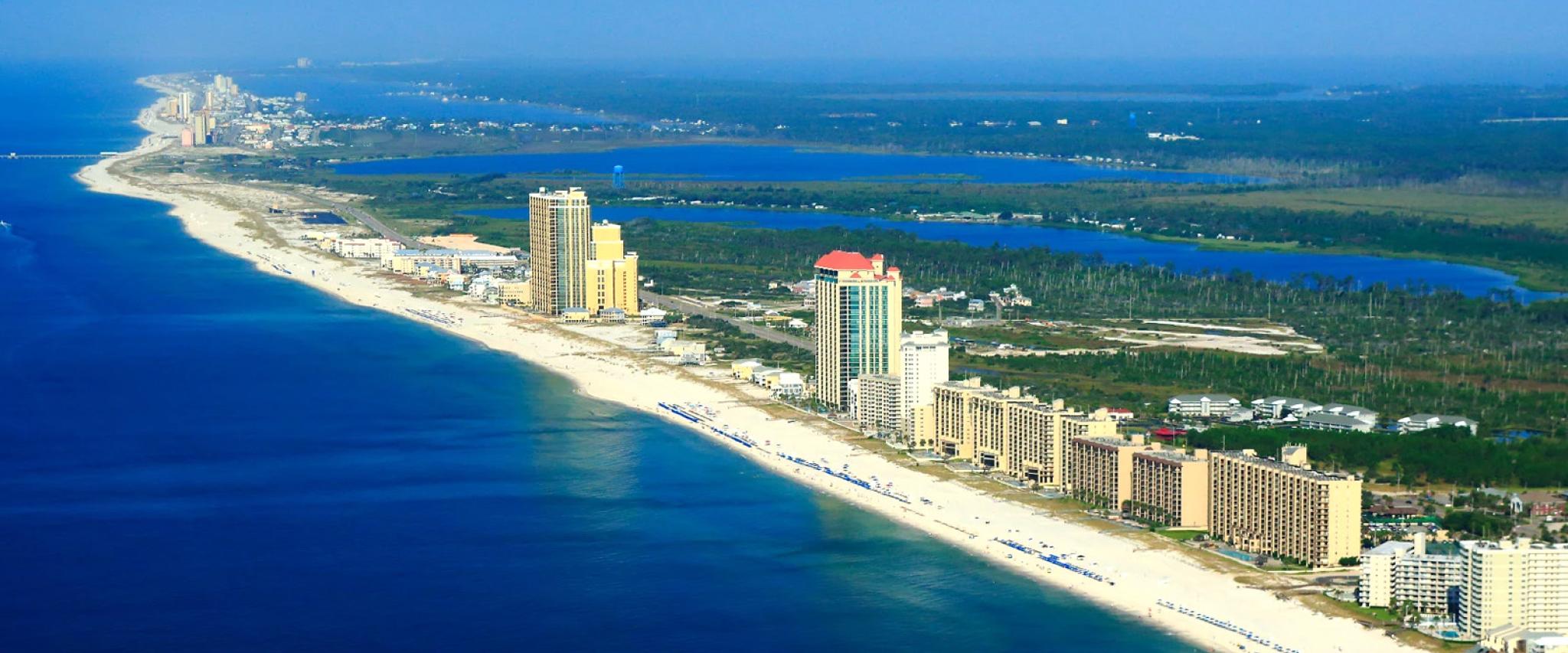 Eight Things to Know Before Your Gulf Shores and Orange Beach Vacation
Nestled along the shores of the Gulf of Mexico is a magical place where the warm turquoise waters lap against sugar-white beaches, where the salt spray and sea breeze are exhilarating, and where the hospitality is as warm as the sun.
May 11, 2020
Welcome to Gulf Shores and Orange Beach, Alabama, two seaside towns that are among the fastest growing vacation destinations in the country. If you are planning a vacation to this little stretch of heaven, here are a few tips to help make your visit memorable and stress-free.
1. Gulf Shores and Orange Beach are Dynamic Beach Towns
The cities of Gulf Shores and Orange Beach are charming beach communities. They are alive and vibrant with a good mix of the young and old bringing excitement to the area. You'll find attractions, dining experiences, music venues and adventure both on and off the water. Festivals are a draw here on the Alabama Gulf Coast and include the Hangout Music Festival and the National Shrimp Festival. Both draw thousands of people to the area each year.
 
2. There's More Than Just a Pretty Beach
There is more to this destination than its 32 miles of white beaches, so much so that a single weekend won't be enough time to take it all in. But here are a few good starting places: Take a ride on a dolphin cruise to see dolphins playing in the waves or alligators in the backwaters. For a more intimate encounter with alligators and wildlife from around the world spend some time at Alligator Alley or the Alabama Gulf Coast Zoo. For the kids (and the kid in all of us), check out the thrills at Waterville USA, which is both a waterpark and amusement park boasting tons of waterslides, wave pools, lazy river tubing, go-carts, Dune Racer, miniature golf, and more. And when you get hungry, try one of the many, great local restaurants serving up the freshest Gulf seafood around. It's dinner and a show—the beautiful sunset—as you dine outdoors at Tacky Jacks; enjoy live music, delicious food, and a few drinks with your friends at the Pink Pony Pub; or savor delectable seafood while sipping on a beach-goer favorite, the bushwacker, at the world-famous Flora-Bama Lounge.
3. And Yes, the Beach
The Alabama Gulf Coast boasts 32 miles of pristine beachfront with 10 public-access beaches along the shoreline, most of which have picnic facilities, and many have restrooms and showers. Your best bet is to start with the main public beach (Gulf Place) located at the end of Highway 59. There's volleyball, picnic pavilions, restrooms, showers, beach bars such as The Hangout and nearby shopping. There is a small parking fee charged at the Main, West 2nd Street, West 6th Street, and Little Lagoon beaches. The best way to get to the beach is to consider bringing (or renting) a bike and just pedaling your way to the shore.
4. For the Adventurer in All of Us
Gulf Shores and Orange Beach offer adventure on both land and water. With countless waterways to explore, each beach town has amazing places to paddle either by kayak or stand-up paddleboard (SUP). Look up and you'll see birds like osprey, eagles and great blue herons soaring overhead. And for some high-speed action, rent a Jet Ski and venture around the Gulf. Take a hike on the trails of the Bon Secour National Wildlife Refuge through maritime wetlands and forests, over sand dunes and to the nesting ground of loggerhead sea turtles on one of the most secluded beaches along the Alabama Gulf Coast. Enjoy hiking and biking trails at the Graham Creek Nature Preserve, the Hugh S. Branyon Backcountry Trail and the Fort Morgan Road Trail—perfect all ages. The Backcountry Trail is a good place to spot wildlife, visit a butterfly garden, and let the kids try their hand at some bouldering. For a real adrenalin rush try soaring over the blue water via parasail, then wrap up your day with a fiery orange sunset aboard an evening cruise.
5. Getting Around
If you're staying in Gulf Shores proper, then bring along a bike or rent one at one of the many rental shops. If you're peddling through the Gulf State Park, you can use the free bike share program, too. Everything you need is close by and traveling via two wheels is a fun way to get around.
6. Beating the Traffic
There's no doubt that Gulf Shores and Orange Beach is growing rapidly in popularity. There are two main roads into the towns— Alabama Highway 59 and the Baldwin/Foley Beach Expressway. The expressway has a toll bridge as you cross the Intracoastal Waterway, and it is usually a bit faster. Plus, it extends all the way to I-10. Access it at Exit 49.
7. Forget Something?
No need to panic if you left something behind. Most anything recreational, from bikes to paddleboards, can be purchased or rented at lots of different spots. Grocery stores and big-box retailers give you easy access to extra sunscreen, groceries, over-the-counter medications. Want to get ahead? Place a grocery order in advance to stock your condo (especially helpful if you have kiddos in the party). You can order online with Walmart, Publix or Rouses or let The Beach Moms get your unit ready for you by doing your shopping.
8. Beach Reminders
Some of our fondest memories come from spending time on the beach with our friends and family, but there are some basic rules you should know before heading out to the beach. Leave Only Footprints is an initiative that keeps the beach looking pristine and encourages visitors (along with locals) to act responsibly when beaching it. Originally written by RootsRated for Gulf Shores AL.