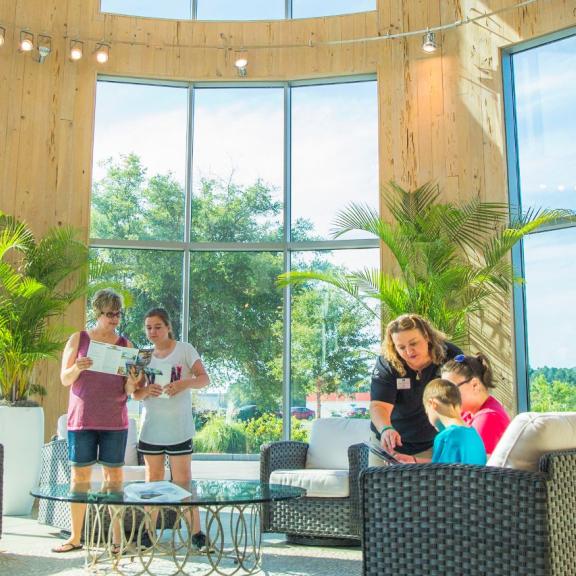 Welcome Centers
in Gulf Shores & Orange Beach
Our Local Experts are your go-to source for all things Gulf Shores and Orange Beach.
Gulf Shores and Orange Beach Welcome Centers are open weekdays from 8 a.m. to 5 p.m., and weekends from 10 a.m. to 1 p.m. 
Got questions about what to see, do and eat on Alabama's beaches? We have all of those answers (and more) at our welcome centers. With welcome centers in both Gulf Shores and Orange Beach, it's convenient to get the information you need regardless of what end of the island you're vacationing on. 

At our welcome centers, you'll find dozens of helpful informational pieces including brochures, rack cards and flyers. We also have coupon books and other discounts for local attractions and restaurants. And, for more details and advice, our knowledgeable vacation specialists are here daily to help you make the most of your Alabama beach vacation.
Both welcome centers offer special accommodations for those with sensory issues, such as headphones, a quiet place to reset, and fidget spinners. Communication cards and a dry-erase board are also available to help our vacation specialists better communicate with everyone who walks through our doors. We look forward to helping you and your loved ones. 
If you need information prior to your trip, our vacation specialists are also available by phone, text and email. You can reach them at 800-745-SAND (7263) or [email protected]. 
Orange Beach Welcome Center
Gulf Shores Welcome Center
Take a 360 Tour of Our Welcome Centers