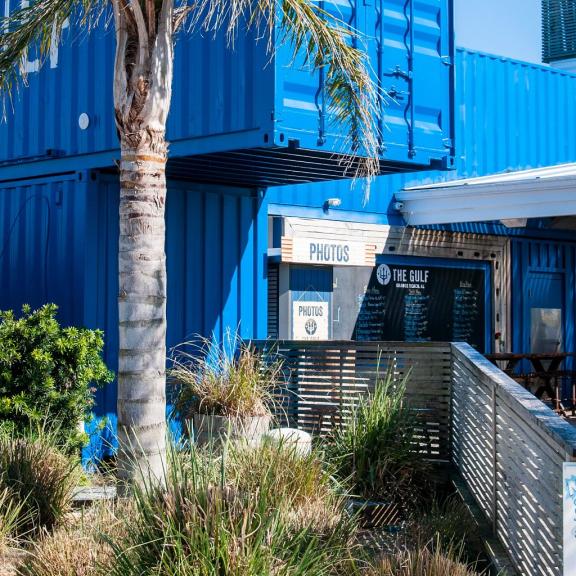 7 Quirky Must-Visit Places
In Gulf Shores & Orange Beach
These fun-loving spots provide experiences you won't want to miss.
June 24, 2022
As you might expect, there are countless ways to spend your off-field time along the Alabama Gulf Coast. But the not-so-typical places of Gulf Shores and Orange Beach create even more fun for an especially memorable visit.
Gulf State Park
There's something for everyone inside Gulf State Park. The beach pavilion provides picnic tables under a shelter, the nature center is a great place for the kids to learn, the swimming pool becomes a cool place to refresh, and Lake Shelby day area offers kayaking and canoeing. For a change of pace while visiting, check out the fishing and education pier, miles of biking on the Backcountry Trail, and the beautiful flowers in the butterfly garden. See if you can find Lefty, the three-legged alligator that lives along the dunes inside the park. If you see him, keep a safe selfie-taking distance.
The Gulf
The Gulf is a configuration of repurposed shipping containers that creates a funky waterside restaurant complete with a taco bar and fresh seafood. Enjoy a beach atmosphere of surfboard décor and cabanas. Choose to dine at a picnic table, on the lawn, or with your toes in the sand. This outdoor dining experience is group-friendly and a wonderful place to refuel and relax near the water.
GTs on the Bay
GTs stands for "good times," and they mean it! Located in Orange Beach, GTs overlooks Wolf Bay and has plenty to see and do while you wait for a table. If you walk through the restaurant, you'll pass by a pool full of stingray and fish. The back deck offers stunning bay views, live music and quick bar service to help pass the time. Kids will love the outdoor play area that features a wooden pirate ship and a large sandpit. You can also catch fun family activities like caricature drawing or face painting at various times throughout the year.