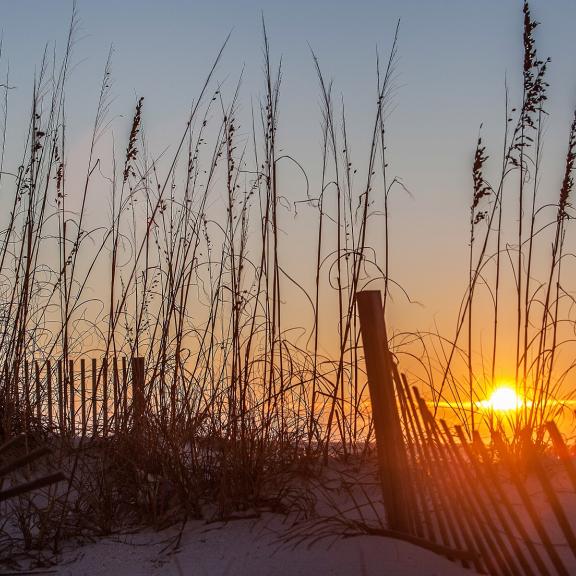 We Answer Your FAQs
Gulf Shores & Orange Beach
Have a question about Gulf Shores and Orange Beach? These Frequently Asked Questions might have the answer. Don't see the answer you need on this page? Contact us at 

[email protected]

.
How do I plan my wedding or reunion here?
When couples tie the knot in Gulf Shores and Orange Beach, they're getting a wealth of local resources from wedding planners to wedding venues. Not to mention those beautiful Gulf sunsets that enhance every photograph. Check out our wedding page for information that will help you take the plunge in paradise.
Where is the meeting space located in Gulf Shores and Orange Beach?
Much of our inventory is hotel- and resort-based and located either directly on the Gulf of Mexico or steps away. We also have an event center with adjacent hotel located at the Wharf, a popular spot for dining, shopping and entertainment, with restaurants galore, mini-golf, a movie theater, ziplining and an iconic Ferris wheel offering sweeping views of the Intracoastal Waterway.
How can my organization get involved in a local service project while meeting in the area?
Giving back to the local community during a conference or convention is a rewarding and memorable experience. In Gulf Shores and Orange Beach, a variety of social and environmental organizations welcome assistance from meeting groups. 
When will the Gulf State Lodge be completed and will it have meeting space?
The Gulf State Park Lodge - a Hilton Hotel opened Nov. 1, 2018.  The 350-room Gulf-front property features numerous sustainability initiatives throughout. The Gulf-view ballroom is 12,000 square feet with additional meeting space totaling 40,0000 square feet as well as full-service restaurants open to the public.
What will my attendees and/or their guests do during downtime?
Anything they can think of! They'll visit attractions, shop, dine, go fishing and tee off on one of our championship golf courses. They'll give their camera phones a major workout while sightseeing. And, of course, they'll go to the beach. Our team can make suggestions for group excursions and  spouse/family programs.
How will my attendees get to Gulf Shores and Orange Beach?
Served by I-65, I-10 and Highway 98, Alabama's beaches are a convenient distance from most major Southeast cities, and the great majority of our meeting delegates drive in. By air, Mobile Regional and Pensacola International airports are served by major carriers like American, Delta and Southwest, among others, with non-stop flights from many cities as well as additional direct service during the summer. Once you land, private shuttles and buses will get your group from the airports to Gulf Shores and Orange Beach quickly and comfortably. For details visit Getting Here. 
What is the maximum number of attendees you can accommodate?
Our largest venue can host 2,000, while our largest property can accommodate 800. Hundreds more can be hosted at area hotels and condos, giving attendees the option of bringing family and enjoying our beach destination. Area properties provide extensive facilities, from boardrooms and conference rooms to ballrooms. Many of our attractions also offer space for private events.
Will my board be impressed?
Your board will be impressed and then some! From full-service convention hotels to top-notch condominiums and vacation rentals, we have the variety you need for your meeting agenda. Sun-splashed and warm, Gulf Shores and Orange Beach creates the ideal setting for team-building and networking opportunities, with golf, charter fishing, dining and attractions all readily accessible. And everywhere you go, you'll encounter professional, courteous service delivered with a generous dose of Southern hospitality.
How can I keep accompanying spouses and children occupied during the meeting program?
Attendees who bring families in tow can focus on the business at hand, knowing their spouses and children are having the time of their lives. While the hotel pool is a perennial favorite for kids, they also will love our amazing zoo and waterpark. In addition, hiking, biking, kayaking and watersports are among the many things to do here. Let the experts on fun, our sales staff, handle the details.