Strap on a snorkeling mask and a pair of fins and see what kinds of marine life you can spot in Alabama's turquoise-blue waters. The weather is perfect for snorkeling with water temperatures averaging 82 degrees in the spring and summer months, and 56 degrees in the winter. And you might spy stingrays, crabs, jellyfish, octopi, saltwater catfish, an array of juvenile fish species, pinfish, horseshoe crabs, mollusks, algae, minnows, butterfly fish, sea turtles, damselfish and much more.
It is very easy to get started if you've never snorkeled before. You can pick up fins, a mask and a snorkel at many local dive shops or retailers. Or book a guided snorkeling tour through a local operator.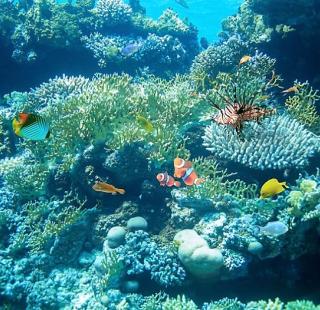 Make Some Memories Down Under
On your snorkeling adventure, explore the ancient shipwreck of The Whiskey Wreck teaming with marine life and located just beyond the sand bar. The wreck is a 200-foot, Spanish rum runner sunk in 1920 in 15-25 foot water.
Discover an abundance of marine life at the Paddle Wheeler. This shallow water site is west of Lagoon Pass and provides an interesting hideaway for underwater creatures which are begging to be discovered.
Explore fun, whimsical statues including Poseidon, Venus of the Sea and Apollo at Poseidon's Playground (established in December 2014). At only 40 feet deep, it is perfect for snorkelers, and is just three miles south of Perdido Pass and the Gulf State Park Pier. In 2015 the Reefs of Fame was introduced when the movie "USS Indianapolis: Men of Courage" was filmed in our destination. The reef includes handprints of actors Nicholas Cage and Cody Walker (brother of the late Paul Walker), as well as director Mario Van Peebles. Stay tuned for more celebrity handprints coming soon.
Closer to shore, check out the rocky jetties at Alabama Point in Orange Beach for excellent snorkeling visibility of up to 25 feet during ideal tide and weather conditions. You'll see plenty of crabs and marine life near the rocks especially if you snorkle an hour or more before the peak of an incoming tide.
Three new reef zones to explore are at Gulf State Park beach access points: the Pavilion site, the Perdido site and the Romar site. Snorkle with your family to discover a wide variety of marine life.
For those new to the sport, snorkel on days when waves and currents are minimal and visibility is good.
And always use a dive flag to alert boaters of your location.