Find Your Beach House...
Beach houses in Gulf Shores and Orange Beach provide not only spacious accommodations but also fully-equipped kitchens and outdoor living areas--perfect for enjoying the views.
Many beach homes have a private or community pool. Others have picnic tables, porch swings, fish cleaning stations, private docks, or a pier where you can keep your canoe, kayak, or boat right on Mobile Bay or Little Lagoon. If you're in a community of beach homes, you may find many family-friendly amenities such as a tennis court, shuffleboard, putting green, or local fitness center. Not to mention, many beach houses are in prime locations, close to attractions and activities such as the best golfing or fishing location. Ready to book your beach vacation? Find the best beach house for your vacation today. Also feel free to browse our wide selection of condos or hotels in Gulf Shores and Orange Beach.
How it Works: Click on the 'Visit Website" button to view details about the property and search for rates and availability on our lodging partners' websites.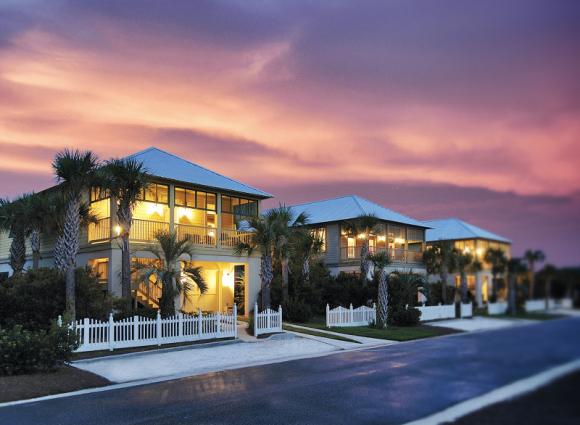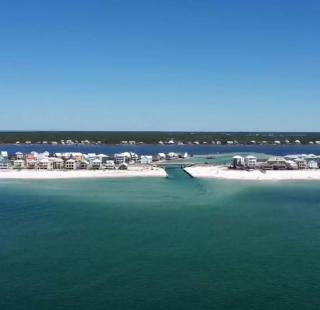 Why Choose an Alabama Gulf Coast Beach House
Location
Make sure you're choosing a property that is close to the attractions you'll be exploring.
Gulf Access
Choose the view you desire, whether this be one of our Gulf front, side, or waterfront properties.
Pet Friendly Properties
Bringing your furry friend along for the trip? Make sure you choose something pet-friendly before pulling the trigger! Party Size - How many people are you traveling with? Ensure your property selection can accompany you and your party.
Parking
Determine whether or not you'll need to figure out parking, or if your selected property covers it. Amenities - Before settling on your beach house rental, research the different amenities that will be included that fit the needs of you and the rest of your party.
Pet-Friendly
Pets are often welcome at many beachfront rentals. More than 40 beach houses in the Gulf Shores & Orange Beach area are considered pet-friendly rentals. In some areas of Fort Morgan, pets are also permitted on the beach.
Luxury Accommodation
In a beach vacation rental, you may find multiple televisions, a stereo system, a washer/dryer, a grill, board games, DVDs, extra blankets and towels. In the kitchen, you will find many appliances you need for meal prep—from blenders to frying pans, cutting boards, and toasters. With so many conveniences on site, you'll find there's not much to pack besides your swimsuits and attire.
Several Options
Whether you need a simple two-bedroom home near a public beach access, a 5,100 square-foot Gulf-front villa with a private balcony, or something in between, Gulf Shores and Orange Beach rental homes come in many different locations and sizes. Some have private pools, sprawling boardwalks over the beautiful dunes, grassy yards a few blocks from the shore, and porches just steps away from the Gulf spray and white-sand beaches. You can be picky about your décor as well—so you can rent the beach home that best fits your timeline and taste in this one-of-a-kind destination.
Invite All Your Friends
One duplex in the area—a 5,100 square-foot space with a Gulf-front view—includes eight king bedrooms, two triple bunk rooms, an elevator, a gourmet kitchen, a wet bar, three dishwashers, a sundeck and a porch. No matter your party size, we've got options to accommodate everyone.
Quiet and Spacious
Vacationing in a beach home is notably peaceful, as you are engulfed in a relaxing atmosphere where you can sleep in or watch the sunset just as easily.
Beach House FAQ's
What are some important considerations before choosing my Gulf Shores or Orange Beach beach house?

Location (and how it relates to your itinerary)
Alabama Gulf access
Pet-friendly accommodations
Size of your party
Parking access
Amenities 
Amenities vary by property, but some popular beach house amenities include:

Outdoor pools
BBQ areas
Fitness area
Beach access
What to pack for a beach house rental?

Some necessities to pack for your beach house rental include food, sunscreen, beach/pool toys, games, clothes, swimsuits, and hats. Be sure to check with your rental property to see included toiletries, kitchen supplies, beach chairs, etc. to ensure you pack everything you need. 
Are there houses directly on the beach in Gulf Shores & Orange Beach?

There are many lodging options in Gulf Shores and Orange Beach that are located directly on the beach. View all beachfront properties to see what's available.
Are there houses directly on the water in Gulf Shores & Orange Beach?