When planning a trip to Gulf Shores and Orange Beach, do you imagine seeing dolphins, enjoying relaxing afternoons, having great adventures or sharing romantic evenings with your significant other? You can have it all when you plan a dolphin or dinner.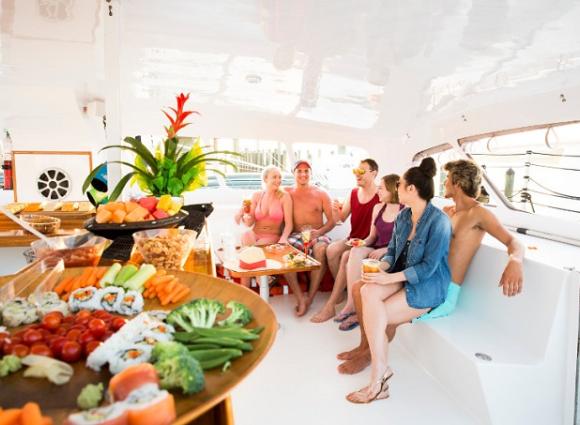 Cruises for Nature Lovers
There's a new world to explore in the beautiful turquoise water of the Gulf. For those who want an interesting and educational experience while visiting Gulf Shores and Orange Beach, a tour boat is one of the best ways to learn more about this unique ecosystem. Take learning out of the classroom and get up close with wildlife when you're learning on the water.
Cruises for Relaxing
Whether you're visiting from across the country or you live close by, your visit to Gulf Shores and Orange Beach can be a relaxing respite from everyday life. While there's plenty of fun and adventure on land, your time on the water can be reserved for rest and relaxation. Book a morning cruise and start your day on the water. Take in the views and enjoy some quiet time away from it all. With so much to see and so much to do, a visit to Alabama's Gulf Shores and Orange Beach has something for everyone. Book your beach vacation rental today with Gulf Shores and Orange Beach condos, hotels, RV camping, beach houses, and more!
Dolphin Cruises for the Family
When traveling with both kids and adults, a family-friendly cruise can keep everyone entertained. Dolphin cruises are a great chance for everyone to get out on the water and see dolphins playing. Dolphin tours are one of the top things to do in Gulf Shores and Orange Beach. Your day on the water will be an unforgettable experience that the kids will talk about for years to come.
Dinner Cruises for Couples
For couples traveling together, a dinner cruise can make for a fun and romantic date night while visiting Gulf Shores and Orange Beach. A dinner cruise is a perfect opportunity to get away and spend time together on the water. Choose between a group or private cruise with options for dinner, drinks and entertainment on board. Schedule your dinner cruise for sunset to take full advantage of the beautiful views of the Gulf and white sand beaches as the sun goes down.
Cruises for Your Guys Trip
Are you looking for a chance to spend some time hanging out with the guys, getting some sun, and being active? Get your friends together and charter a boat for an Orange Beach fishing trip. Get out on the water with an experienced guide who will know exactly where to go and what to do to find the fish. Pack for the day, choose from a wide selection of fishing expeditions and make the most of the region's long fishing season.
Cruises for Your Girls Getaway
Let your hair down with some of your best girlfriends during your trip to the Gulf. From shopping to parasailing, there are plenty of activities to enjoy during the day. At night, keep the fun going with a dinner or dolphin cruise. Book some time on the water with a cruise that includes drinks, hors d'oeuvres, and music. A girls getaway or Gulf Shores bachelorette party isn't complete without sailing around the Gulf with a glass of wine in hand.
Cruise during your trip to the Gulf of Mexico.