Down Under
Why is scuba diving so popular in Gulf Shores and Orange Beach? Dive sites off the Alabama coast form part of the largest artificial reef program in the United States. There's nothing like exploring a world underwater and Alabama's Gulf Coast offers several sites for every diver to enjoy. From exotic fish to shipwrecks, there's not a dull moment scuba diving in Orange Beach and Gulf Shores.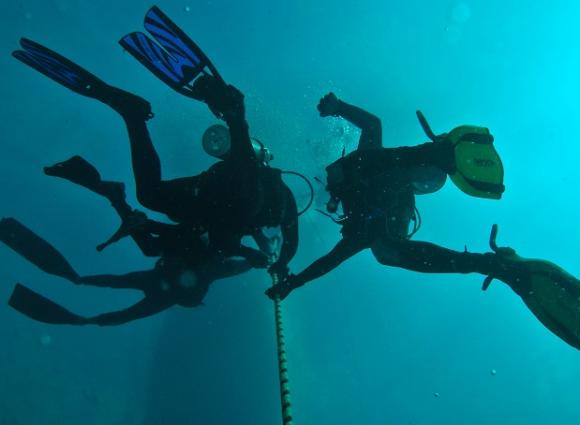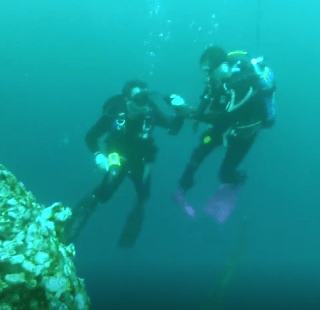 Exploring Shipwrecks of Alabama's Gulf
Normally, the idea of a shipwreck is cause for alarm. But when intentionally sunk, decommissioned ships and other structures (including aircraft carriers, oil rigs and even subway cars) serve as habitats for all kinds of marine life. In time, they become true underwater reefs and functioning ecosystems, providing a stable surface for algae, corals, barnacles and oysters and drawing schools of colorful fish. Gulf Shores and Orange Beach are filled with these types of habitats and artifacts, making our dives entertaining and unique.
Where to Scuba Dive in Gulf Shores
There are plenty of sites for novice divers as well, including the Whiskey Wreck, so named because it's a sunken rum runner boat. At 25 feet deep, the wreck is one of the few spots along the Gulf accessible from shore.
Set at 40 feet under is Poseidon's Playground featuring statues of Venus, Apollo and Poseidon himself. There will be even more structures added in the future.
Coastal Alabama's newest entry in wreck diving is also closer to shore. The sunken freighter LuLu is located 17 miles south of Perdido Pass and Orange Beach. Starting at a depth of 50 feet (which is perfect for beginners seeking certification), the LuLu continues to 115 feet below the surface, making it a challenge for experienced divers who explore its ghostly passageways in the underwater gloom.
Whether you're advanced or just want to learn, let our reef diving professionals launch you into a fascinating world of underwater wonders.
The Lulu
Many people along the Gulf Coast celebrated this sinking of "The Lulu", as it marks a new chapter in the world of scuba diving in Alabama and could even be a worthwhile addition to your vacation to the Gulf Coast.