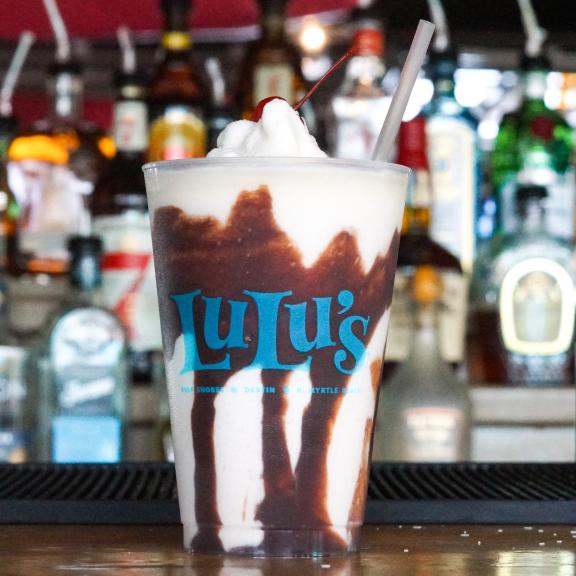 The Bushwacker Trail
Gulf Shores & Orange Beach
Lunch: Moe's Original Bar B Que
Visit Moe's Original Bar B Que for lunch and wash down your finger-licking barbeque meal with a bushwacker. This laidback joint offers food specials every day and outdoor live music on the weekends.
Late-Night: Pink Pony Pub
If you're craving a late-night bushwacker, head over to Pink Pony Pub, located right on the beach in Gulf Shores. This spot makes its bushwacker with Malibu rum, dark crème de cocoa, Irish crème and vanilla crème.
Lunch: Yoho Rum & Taco's Boat Bar
Shop 'til you drop at The Wharf then grab a bite to eat at Yoho Rum & Taco's Boat Bar. While here, add this restaurant's chocolatey bushwacker to your order.
Late-Night: OSO at Bear Point Harbor 
End your evening back at OSO in Bear Point with a slice of bushwacker cheesecake. The dessert includes an espresso and coconut cheesecake topped with a vanilla rum sauce. You can also order a regular bushwacker to accompany this sweet treat. 
Lunch: GT's on the Bay
Ice cream lovers have to try the bushwackers at GTs on the Bay in Orange Beach. Enjoy this restaurant's spin on the frozen drink with Cruzan coconut rum, coffee liqueur, light crème de cocoa and a scoop of vanilla bean ice cream.
Late-Night: Flora-Bama Lounge & Oyster Bar
Your bushwacker journey ends at the iconic Flora-Bama Lounge and Oyster Bar. This famous spot is known for its take on the boozy milkshake, served with whipped cream and topped with a cherry. Listen to local musicians as you sip your final drink of the trail. 
Still can't get enough? These Gulf Shores and Orange Beach restaurants also serve bushwackers:
You can also take a ride on The Surfside Shuttle and experience their bushwacker tour featuring four hot spots serving up this delicious drink in the area!
Try making your own bushwacker and other delicious beach cocktails at home with our drink recipes!