Fall in Love with Fall Tennis on the Beach
September 1, 2016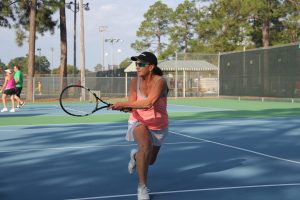 Ready for a match made in heaven? Tennis is in the air! For those who love the sport, plan on coming out and showing your favorite player or team your support. You'll enjoy seeing the upcoming tournaments that will be served up by the Gulf Shores & Orange Beach Sports Commission in September and October.
We look forward to welcoming the players, coaches and fans as the cooler weather sets in on the beautiful beaches. While you're on the Alabama Gulf Coast this fall, meet us on the court for the various events that are swinging through Gulf Shores and Orange Beach.
•    Game, set, match! You'll score an ace at the 2016 Alabama State Tri-Level Championships when you attend September 22-25. Come and see all the action as more than 300 tennis players vie on the courts to see which team will win the championship title. The location of all of these matches will be bouncing around the city of Gulf Shores, including the Peninsula Golf & Racquet Club and The Beach Club.
•    You'll be seeing double as you watch the 2016 Alabama Adult Combo Tennis State Championships (40's & 55) zoom over the net and land inside the line at The Peninsula, The Beach Club, Gulf Shores Plantation, and the cities of Gulf Shores and Orange Beach during October 20-23. The Southern Combo Doubles is the fastest growing adult league program in the South! Both men's and women's teams compete at the state level to advance to the Southern Combo Doubles Southern Sectional.
Will you be swinging by one of these events to cheer on your favorite player or team?