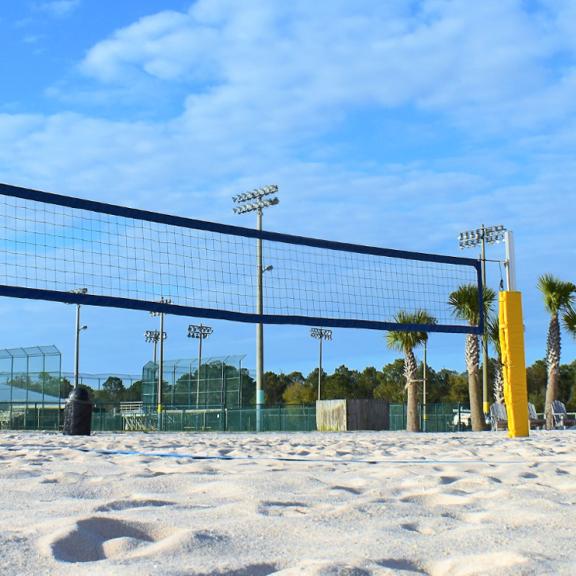 Big or Small, Alabama's Beaches Can Handle Them All
The Alabama Coast makes an ideal sports destination with multiple venues able to handle groups of all sizes.
April 23, 2019
If your event includes a reception, the Orange Beach Event Center at The Wharf stands out for large groups. The Wharf Amphitheater is another great option.
Team dinners may require a bit of forethought when traveling in a pack. LuLu's Gulf Shores is among restaurants that can handle a high volume of diners. The service is typically top notch, even for large groups. A nice part of eating with LuLu's is that they are allergy-conscious, and can handle multiple dietary needs and offer separate menus for dietary restrictions. They also have lots of fun activities to enjoy before and after your meal. The Hangout is another restaurant built to hold large groups, and surround them with fun. A couple of other options are Luna's Eat and Drink, and Ginny Lane Bar & Grill. Both locally-owned establishments can serve a crowd, or a two top, with ease.
No matter the size of your event, we can match you with a venue just right with all the right features. You don't have to be a huge event to work with us. The Event Center at the Wharf has hosted dance competitions, grappling, martial arts and more. Gulf Shores High School has hosted volleyball, football, basketball, and other tournaments. The Orange Beach Recreation Center is also home to an Aquatic Center, Tennis Center and Sand Courts. Not far up the road is the Orange Beach Golf Center. In between the two is the Orange Beach Sportsplex.
In Gulf Shores, Johnnie Sims Park is a popular spot for soccer; David L. Bodenhamer Center has a swimming facilities; then there's the George C. Meyer Tennis Park and the Gulf Shores Sportsplex. Gulf Place, the main public beach in Gulf Shores, has hosted Crossfit competitions, beach volleyball, races and other events.
Curious about bringing your event to Gulf Shores and Orange Beach? Fill out this form, and someone from our organization will reach out to answer any questions you may have!