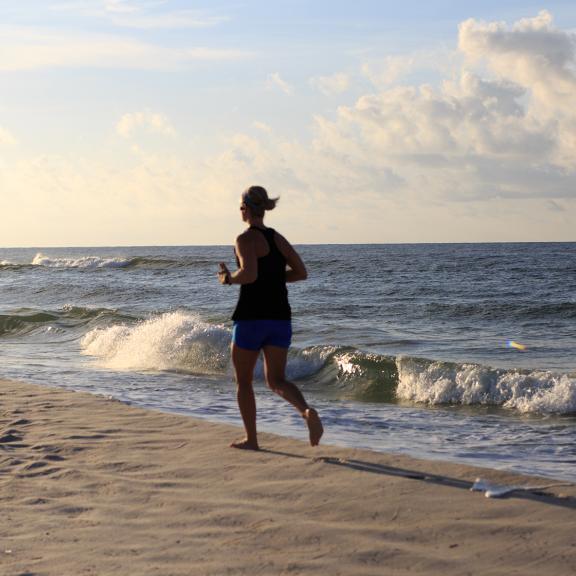 Run The Beach Runner Personas
We welcome every kind of runner in Gulf Shores and Orange Beach!
November 15, 2019
If you haven't heard about the Run The Beach half-marathon series in Gulf Shores and Orange Beach, then you're reading this just in time! We're here to tell you about not only the races, but also the type of athlete you might "run into" while participating. Take a look and let us know: Do any of these runner personas sound like you? 
The Athlete
The athlete is who you might think of first when it comes to running a race. They sign up for a race without a worry of whether they can actually finish, and they may be competing to place. This type of runner enjoys a challenge, and often has a group of athletic friends with similar interests to help keep motivation high during training and on race days. 
The New Runner
The newbie is always a welcome addition to Run The Beach. With mostly flat trails, even a first-time runner can compete in the series with ease. You'll find other newbies to bond with, and you may even get set up with our next runner persona! 
 
The Pacer
When you see someone running with a pole and a time stamp, it means this man or woman is a pacer – and they are a good runner to hang with. Their consistency allows them to set a speed and finish the event in a precise amount of time. It's great to find a pacer who can push you to keep up!
The Family Man (or Woman)
We love the family man (and woman)! Not only do they bring a group with them to run, but it's often quite a diverse group. From very young (perhaps a parent runs with a stroller) to great-grandparents looking to stretch their legs rather than break a record, the racers span all ages and backgrounds. Our half-marathon course is ADA-accessible, and we're proud of all the participants, no matter their abilities or goals. 
Ready to learn a little more? Run The Beach consists of three races: the Big Beach Marathon and Half Marathon, the Sea Turtle Half Marathon and Sweetheart 5K, and the Kaiser Realty by Wyndham Vacation Rentals Coastal Half Marathon. You must complete all three races to qualify for the official race medals and swag. A discount is available when you register for all three, and we'll even send you home with an extra medal! Sound like fun? Register to run today!