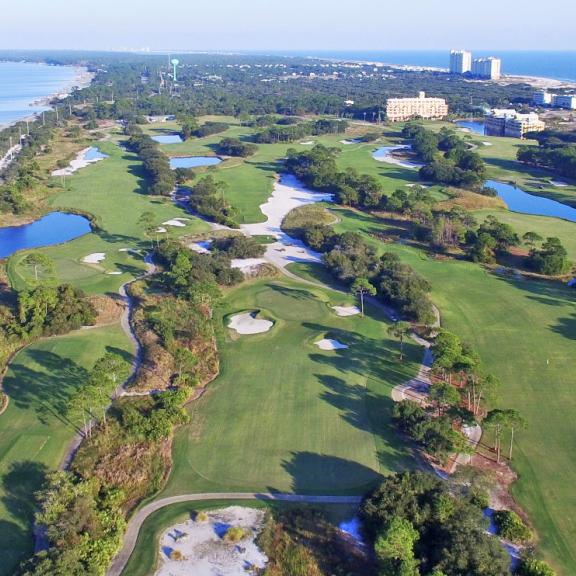 The HOLE Story: Kiva Dunes' Hole No. 6
Learn how to play Kiva Dunes' Hole No. 6 like a pro.
April 30, 2019
Feel the gentle Gulf breeze coming off the beach as you line up your shot at Kiva Dunes. Kiva Dunes has more than 7,100 yards of play area and offers a manicured track winding through acres of secluded, coastal greenery and natural marsh. It's also located in the Bon Secour National Wildlife Refuge area, a pristine conservation area in Fort Morgan. You'll enjoy a peaceful day of golf at Kiva Dunes.
The course opened in 1995 and was designed by Jim Edgemon and U.S. Open Champion Jerry Pate. The links style course was ranked the number one public golf course in Alabama by Golf Advisor in 2017 and has consistently won awards from Golf Digest, Golf Week and Links Magazine.
Put the finishing touches on your game with a golf lesson at Kiva Dunes by resident PGA golf pro, Rea Schuessler. Kiva Dunes offers private lessons, game analysis, a 9-hole playing lesson, and more. Group instruction is also available.
How to Play Hole 6
Schuessler says to play hole six like a pro, adding the hole is a "great driving hole that will reward you if you are willing to hug the waste area on the left. The green tends to run away from you on the approach shot."
Ready to plan your next Gulf Shores golf getaway? Browse additional golf course offerings on our website.