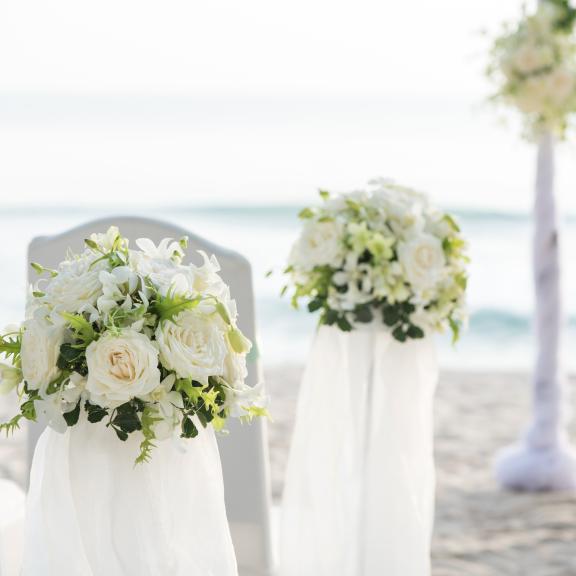 Weddings
Gulf Shores & Orange Beach
Where You Say I Do
Gulf Shores and Orange Beach is an ideal wedding destination for locals and visitors. Invite friends and family to spend more than just a few hours celebrating your big day. With the amenities and attractions throughout Alabama's Gulf Coast, your guests will be happy to spend a whole weekend enjoying the sights, sounds and tastes at the beach.
The two coastal cities have everything you need to plan the perfect destination wedding weekend. From florists who will bring life to your ceremony space, to bakeries that will design your ideal wedding cake, to wedding planners who will take the entire process off your plate, you can find all wedding services here to make planning your big day easy. With gorgeous white sand beaches and crystal clear water as a backdrop, your beach wedding photos will bring back happy memories and probably a bit of wanderlust every time you see them.
Gulf Shores and Orange Beach also come with several different lodging options, making it easy and accessible for your guests to plan a trip. From beach resorts, beach condos, and beach house rentals, you can easily choose a location that is close to the wedding ceremony and reception.
Gulf Shores and Orange Beach Weddings
From once upon a time to happily ever after, Gulf Shores and Orange Beach are two of the best kept secrets for beach destination weddings. Say "I do" on sugar-white sand beaches under blue, sunny skies against a backdrop of sparkling turquoise water. The incomparable natural beauty of the island gives brides-to-be a blank palette to plan their dream Gulf Coast weddings. Creating memories of walking barefoot down the aisle and celebrating with family and friends will have you and your spouse coming back year-after-year to this little piece of paradise on the Alabama Gulf Coast.
Top Restaurants in Gulf Shores & Orange Beach
Best Beaches in Gulf Shores & Orange Beach
Gulf Shores and Orange Beach Weddings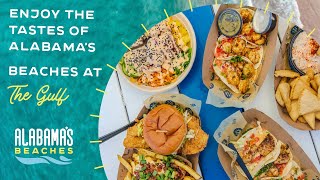 Beachside Dining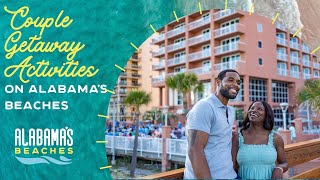 Couples Getaway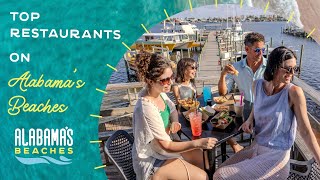 Top Restaurants in Gulf Shores & Orange Beach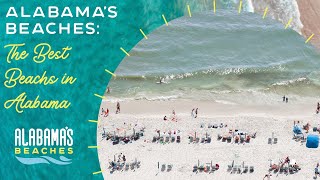 Best Beaches in Gulf Shores & Orange Beach
The Rehearsal Dinner
Whether you prefer a casual location or something a bit more formal, you'll find plenty of rehearsal dinner options throughout the Gulf Coast area. Sit down for a fresh, delicious seafood dinner after practicing your walk down the aisle at one of our fan favorite special occasion restaurants.
Wedding & Reception Venues
Are you dreaming of a fairy-tale wedding ceremony in a ballroom filled with family and friends? Would you rather be barefoot on a beach while exchanging your vows with your new husband or wife? There are local venues that will suit either plan perfectly. When planning your wedding weekend, especially one including outdoor events, be sure to take local weather into consideration. Some months will come with chilly evenings, and summer months may be too hot for a daytime wedding under the sun.
The Honeymoon
One of the big benefits of planning a destination wedding in Gulf Shores or Orange Beach is how easy honeymooning is. In fact, you can plan a romantic beach getaway without even leaving town as a newly married bride and groom.
If you're looking for the perfect destination wedding location, Gulf Shores or Orange Beach has all the resources to plan the perfect trip.
What better way to catch up with family and friends who have traveled from all over than having a welcome party on a beautiful Alabama beach? Show off some of the great things that the area has to offer. Your guests will be grateful to be welcomed by some good, Southern barbecue. While you have the whole gang together in Alabama, give out a sheet with a quick list of suggested activities to enjoy during downtime over the weekend. Fishing, golfing, biking, and water sports are just a few options that your guests will love.
The party doesn't have to end after the reception. The nightlife in Gulf Shores and Orange Beach has plenty to offer. Invite guests to enjoy live music and a couple of drinks before ending the night. If your guests have traveled from out of town, be ready to give them recommendations for all of your favorite places to visit in the area.
Wedding Inspo...