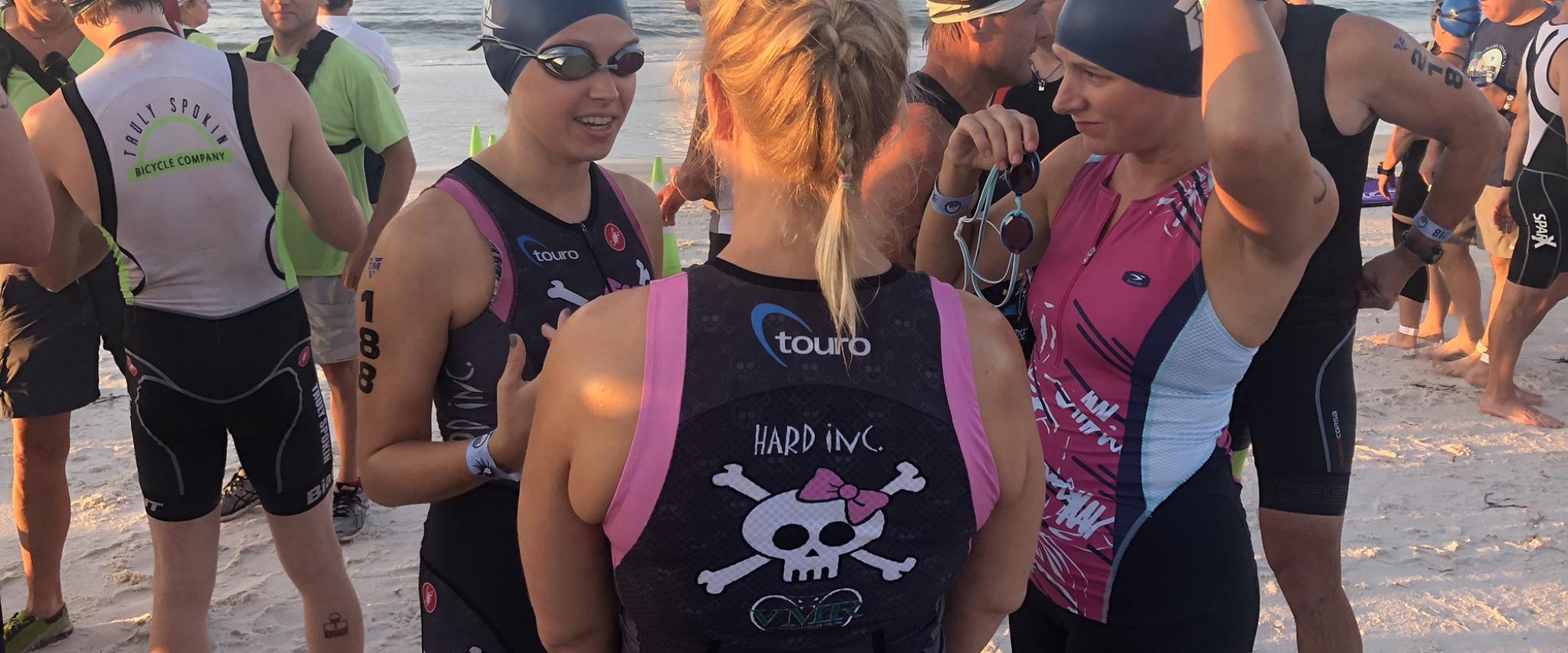 Triathlon and Tri-It-On Triathlon Training Tips
Hit the beach running, biking or swimming with these training tips.
July 29, 2019
Training for a triathlon is a great way to get in shape, make friends and experience something new. If you've been cleared by your doctor, then 8-16 weeks should be sufficient for your training, depending on your activity level when you begin.
Sure, training is important. But did you know you don't have to swim, bike AND run the entire race? You can register as a team, so one person does the swimming, one person does the biking, and another does the running. Also, most major triathlons offer "Tri-It-On" options with shortened distances. With just a little bit of confidence and a training regimen, these tips will get you off the couch and into the distance, stat!
Swim, bike and run at least twice a week. If you're new to swimming, find a coach or a team to practice with. Swim in a controlled environment to begin with as you get confident in your approach, and then switch to open-water training. For safety purposes, it's always best to swim with a training buddy or a group, especially in open water. Work up to one or two open-water swims a week.
Body weight and weighted resistance training exercises are key for reaching your target goal. Implement resistance training twice a week after a short warm-up, alternating between jogging and swimming. Dynamic stretching before and after resistance training, and foam rolling after, will help prevent injury and soreness.
Include one weekly session where you push yourself to do a long bike ride or swim, and follow it up with a short run. This is your brick session.
Build your distance weekly by no more than 10%. By the end of your training, you should be able to complete the distance that you're training for, plus an additional 10%.
You'll also need a rest day, so be sure to schedule in some time at least once or twice a week for your muscles to repair themselves. Rest before or after your brick session.
Looking to complete a triathlon in one of the most beautiful areas in the U.S.? The Brett/Robinson Alabama Coastal Triathlon begins with a 1.5k swim in the Gulf of Mexico, shifts to a 40k bike ride through Gulf State Park, then finishes with a 10k scenic run. The "Tri-It-On" sprint triathlon begins with a 300-yard swim followed by a 9-mile bike ride and a 2-mile run. The race takes place annually in September in beautiful Gulf Shores, Alabama.