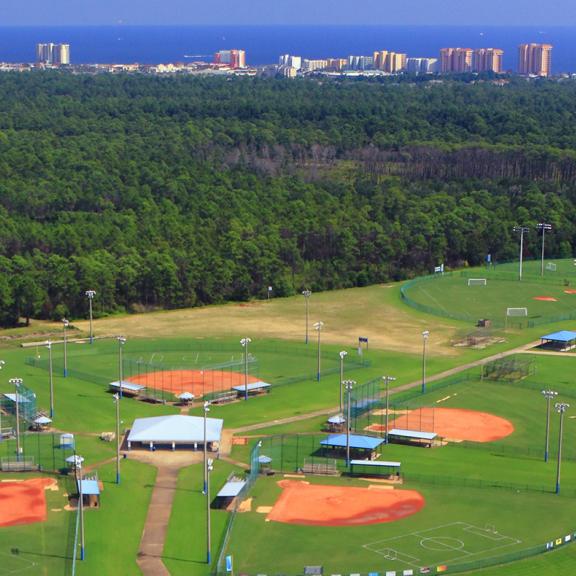 Who Plays on Alabama's Beaches and Why You Should, Too
Did you know Gulf Shores and Orange Beach proudly hosts collegiate events like the SEC Women's Soccer Championship, the NJCAA Men's & Women's Half Marathon, and the NCAA DII Softball Invitational?
December 3, 2018
Baseball teams and families from all over the country come to play on the fields and on the beach in the USSSA Global Sports World Series. You can even find professional bull riders hanging on for eight seconds right on the beach!
There's a reason (well, several reasons) why Gulf Shores and Orange Beach is a popular destination for major sporting events for youth, collegiate, and even the pros. Here's our top five reasons why you should host your next big event with us.
1.) Room for Everyone. With more than 17,000 accommodations from hotel rooms to executive beach house rentals, there is no shortage of beds for teams and families. Even better, planning your event with us means special rates for your participants.
2.) Top Notch Facilities. No matter the sport, we offer state-of-the-art facilities worthy of any championship. Football, track and field, baseball and softball, gymnastics, volleyball…we have the best courts, fields, and sand around. Golf courses? We have those too, several that are even award-winning.
3.) Mix "Business" with Pleasure. Hosting your tournament at the beach is a win-win for everyone as many families like to plan their vacation around the event. There are so many things to do when there is downtime, for adventure seekers and sun bathers alike.
4.) Special Events and Offers. We have some of the greatest businesses who sponsor events and provide special offers to participants and families. Find deals on great restaurants, attractions, and even accommodations that are only available to our VIPs (Very Important Players)!
5.) Breakfast (or lunch, or dinner) of Champions. Everyone knows athletes need to fuel their bodies, so come to the beach where the fuel is mouthwatering. We have so many great options to cover sunup to sundown, with some delicious cold treats along the way. Memories are made around these tables and even the pickiest pitcher will find something they love.