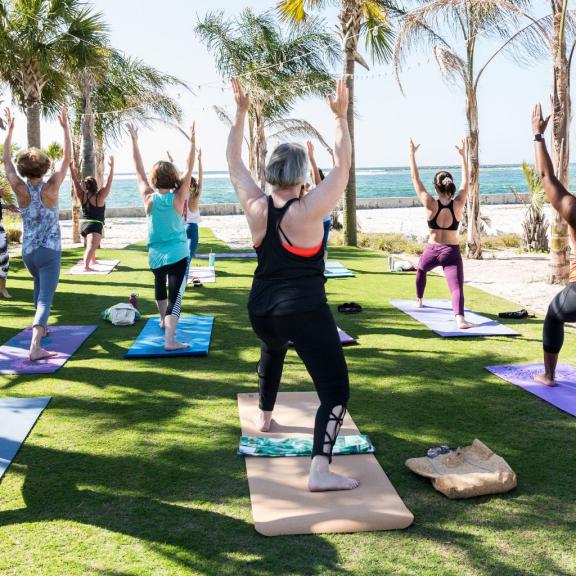 Workout on the Beach With These 4 Easy Steps
Are you looking for an easy workout on the beach? Check out the Gulf Shores and Orange Beach Tourism's official website and learn our five easy steps!
November 2, 2021
Looking to get a quick beach workout during your trip to the Gulf Coast but don't want to pack your gym equipment? We've got you covered.
Check out the Trails
Get outside and enjoy walking, running, or biking along the trails on our island! The Hugh S. Branyon Backcountry Trail is a complex of 28 miles of paved trails winding through nine distinct ecosystems. With its beach and bay access, you're guaranteed a workout with a picturesque view. Another excellent option is the Bon Secour National Wildlife Refuge which features four different walking trails featuring various native landscapes and a crucial flyover point for migratory birds.
Yoga
The bodily movement starts from the base up, so when you change the movement of the ground, you're bound to challenge both balance and stability! Here are a few of our favorite moves to try:
Tabletop Position: Move up so that you're on your hands and knees and your back is flat. Move your back and sides around in circular motions to wake up the core muscles. Repeat this for 10 circles in each direction.
Bird-Dog Balance Position: Raise both your right leg and left arm. Engage your core and draw the right knee to the left elbow under your torso. Repeat 15 times and switch sides.
Toe Taps with Oblique Work: Move back to the tabletop position. Move your right heel to the back of the mat and draw circles with the ankle, stretching the muscles in the feet. Next, draw an arc with the toes behind the body, using the hamstrings, glutes, and core to guide the leg. Repeat 10 times and switch sides.
If you want a more total-body yoga experience, contact companies like Glow Yoga, and they will schedule classes at the location of your accommodation! 
Now let's get up and get active!
Are you looking for your post-workout calories? Check out these fantastic bars and dining options in Gulf Shores!