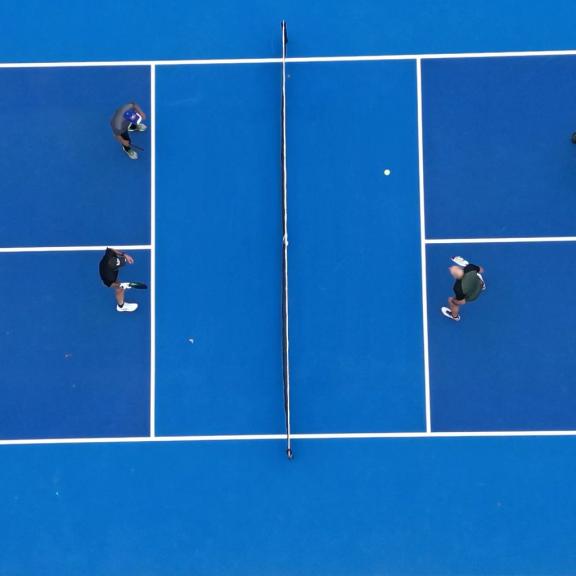 The Rise of Pickleball
In Gulf Shores & Orange Beach
The Rise of Pickleball on the Alabama Gulf Coast: Q&A with Pickleheads Co-Founder
March 13, 2023
As pickleball continues to grow throughout the U.S. both competitively and recreationally, many communities are adapting by adding pickleball courts to existing complexes – indoor and outdoor. In December 2022, the city of Gulf Shores and Gulf Shores | Orange Beach Sports & Events partnered to build a 12-court lighted outdoor pickleball facility at the Gulf Shores Sportsplex for sports tourism and residential use.
Want to learn more about this fun and easy-to-learn sport? Let's hear from Brandon Mackie, co-founder of Pickleheads, a digital pickleball court directory and resource for pickleball players.
Q: What are the benefits of playing pickleball for leisure and competitive players?
A: Pickleball is a great workout and encourages both social and community connection. It's good for mental and physical health. 
Q: Can pickleball be adapted for wheelchair users?
A: Absolutely, there are many wheelchair players across the country and USA Pickleball has created special adaptions of the rules to accommodate them. 
Q: What are the benefits of the pickleball facility at Gulf Shores Sportsplex from a sports tourism perspective (bringing in tournaments/travel play) and from a residential/local angle?
A: I know many players who will forget to pack their underwear before forgetting to bring their paddle. And when you have a beautiful new facility with dedicated courts like the Gulf Shores Sportsplex, it's the perfect activity to do when on vacation. Pickleball tournaments are also growing right alongside the sport and there's currently a shortage of facilities that can host them. The Gulf Shores Sportsplex will have lots of appeal to organizers I believe. 
Q: Anything else you'd like to add? Fun facts?
A: I would encourage everyone to get out and try pickleball! We have a free beginner's virtual clinic on our site right now and are posting weekly play times on our court pages so residents can learn the game and see where to play.
Brandon Mackie is the co-founder of Pickleheads, a platform that helps players find courts, organize sessions, and connect with local players. Once a competitive tennis player, Brandon can be found these days on pickleball courts near Phoenix, Arizona.
LinkedIn | Twitter